To make shopping for ceiling fans easier for you, we have listed a number of the most popular and often relied-on brands and styles. The companies presented here are known for their first-rate products and excellent manufacturing methods.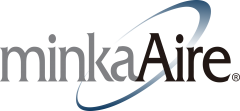 Minka Aire has produced all-original, superior product lines with styles ranging from contemporary, traditional and transitional styles. The company boasts of over 30 styles and more than a hundred selections for your budget and home interiors. The firm is also praised for their top-quality manufacturing methods, details, patterns and styles.
Home Depot houses the brand's line of products and the company is recognized for being familiar with the needs of every individual who wants outstanding units at prices they can afford. In addition, their fans feature both style and function that is why they are the go-to brand for eagle-eyed homeowners.
Harbor Breeze has collaborated with Lowes and because of this excellent team-up, has brought forth a series of units that combine functionality and great looks. Other than that, their ceiling fans are also considered to be one of the easiest to install.
Hunter Fans has been in the business for more than a hundred years now. The company is known for churning out products with exquisite finishes, marvelous designs and elegant glass treatments that suits most contemporary home décor.
Litex Industries focuses on the production and retail of first-rate lighting and ventilation devices that caters to a broad span of style and budget. The company is distinguished from other brands through their modern, high-quality designs and materials and is also regarded as an innovator in the home decoration trades by many.
Spanning nearly 30 years in the business, the Ellington brand continues to be one of the industry's most respected for its impressive array of products. It is now a part of the Craftmade family and to this day, concentrates on manufacturing good-looking products with triple and quad-capacitator motors.
Fanimation has been in the business for over 30 years and they made themselves a name in the business for manufacturing remarkably inventive products that will suit any kind of venue. The brand also features a broad range of fan designs and blades to complement your needs.
Quorum was established in 1981 as a manufacturer of ceiling fans. The brand provides models that will flatter every space from your living room, bedrooms down to the patio. The Trimark model is one of their most popular products because of its innovative, soft-edged contemporary features.
The Monte Carlo Fan Company is related to Generation Brands and is one of the most esteemed companies in the business due to their excellent production values and customer service. Their line of products cater to different tastes and they often stand out because of the company's strong attention to design details.
Westinghouse has weathered over 100 years of manufacturing excellently-rated electronics and home appliances. Their testament of word-class quality can be seen via popularity with people not only from the US, but from other countries as well.
Craftmade products are one of the most dependable, long-lasting and energy-efficient models available at the moment. The brand has over a hundred models of ceiling fans and 20 collections in their line. And as indication of the brand's continuing success, the company has received a lot of merits from consumer and financial publications due to their merchandise's reliability.
Emerson was responsible for creating the world's first alternating current motor meant to be used on ceiling fans and to this day, the company carries on to lead the pack in terms of innovation, manufacturing methods, superior workmanship and high-grade materials.
Kichler is popular with budget-conscious homeowners and with so many styles to choose from, anyone will find that one fixture that will light up, freshen and perfectly complement their abode. In addition, the firm was one of the first companies to manufacture an Energy Star-qualified LED fixture.
Haiku Home ceiling fans are one of the more exclusive ceiling fans brands. Part of the Big Ass Solutions company that was founded in 1999, the Haiku Home ceiling fans from the residential division was introduced in 2016. These fans are made of world-class high quality materials, designed with the utmost details and handmade in America. Their metal finishes are of outstanding quality and you can choose from gold, copper, satin nickel, oil-rubbed bronze, brushed aluminum or polished aluminum airfoils.
The Modern Fan company's success is dedicated to the Stratos ceiling fan, the first of its kind and the frontrunner in the wave of contemporary styles now popular with current ceiling fans. The brand's products are minimal, functional and efficient, perfect for any discerning homeowner who wants more bang out of his or her buck.
Those who go for antique styles should check out a Tiffany model. Usually this style concentrates on beautiful stained glass details, a feature that gained prominence with the launch of the Tiffany lamp which was designed by Louis Comfort Tiffany and launched in 1895. The style is also considered as a part of the Art Nouveau movement.
Minka Aire's Artemis fan is one of the most sought-after models today. Made from superior-quality materials to guarantee durability and strength, the model also includes wall controls plus a halogen bulb light kit.