The market has been hit with smart climate control units and companies like Big Ass Fans are convincing more and more people that ceiling fans of those ilk are the way to go. The company has enhanced their Haiku Home models with the distinctive, highly-innovative SenseMe Technology.
Why Haiku Home Ceiling Fans are Best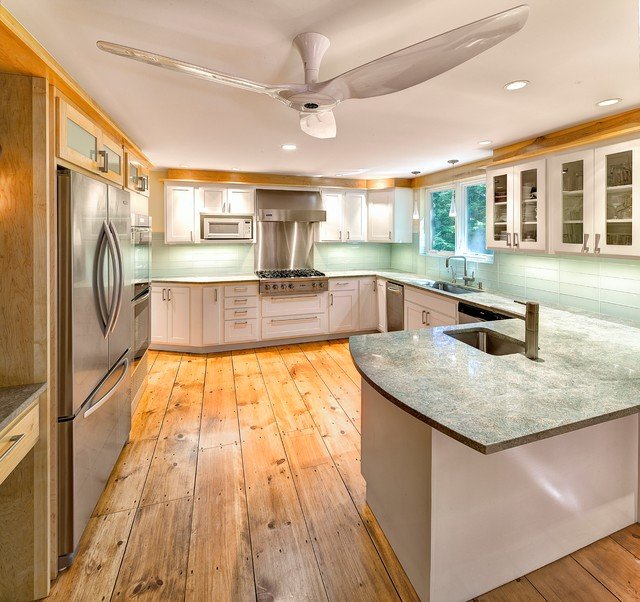 Gone are the days when ceiling fans used to consume so much energy, looked too industrial and stiff and were noisy to boot. Because of the ever-growing need for innovative approaches on electric products, ceiling fans were given a makeover and manufacturers have modified disadvantages on certain models plus added beneficial features on them as well to make the unit convenient, easier to use and energy-efficient.
Nowadays most ceiling fan brands have developed a product line based on modern technology and stylish designs and their ceiling fan models are suitable for every type of room in your house.
Haiku Home models feature patented DC motors that provide noise-free operations and at the same time, use up only 1/3 of the energy consumed by standard fan motors. The brand has replaced its traditional particle board blades with aerodynamic airfoils, handmade from top-rate materials like Moso bamboo and premium aluminum.
Their models also feature the aforementioned SenseME technology—a succession of eco-friendly sensors plus a computer aboard that's built to power the unit's functions to enhance comfort inside the home or office and at the same time, encourage energy conservation too.
Material
The units are made only from superior-quality materials and its components made by hand. It has a broad selection of finishes so you can perfectly match the fan to your living space. Choose among its selection of models crafted from exceptional aluminum, sustainable Moso bamboo, glass-imbued matrix compounds and lustrous finishes care of hybrid resin.
The brand's H series models feature a satin nickel hardware selection that goes side by side with its smart attributes and effectivity. Their I Series meanwhile features black composite airfoils that are slicked on with 3 coats of vehicle-grade paint finishes.
Airflow
A standard ceiling fan features three settings; light, moderate and strong, nothing more. However, the brand's models feature patent-pending motor controls that facilitate a whopping 7 separate speeds to provide users total control.
Want an almost-natural breeze feel? You can try out the unit's Whoosh option and you will be guaranteed a circulation of air similar to the gentle spring breeze you can feel outside.
Other than its great selection of speeds, the company's units also consume lesser energy as compared to their counterparts. Fans from the brand are actually listed in the Energy Star register of the most energy-efficient fans available in the market today.
SenseME Technology
Aside from its typical remote control functions, the company's fans can also be connected to their new Haiku Wall Control feature which can activate around 7 models from the brand with the help of a lone physical regulator point. If users have mobile devices, they can also modify the fan's modes and settings by employing the brand's app which can be had for Android and iOS users.
The brand's SenseME technology activates the unit's operations to make the most of users' comfort and energy conservation. SenseME lets the brand's units and lights to join in with affiliate products like Amazon Echo, Nest Learning Thermostat and ecobee smart thermostat for improved and hassle-free functionality.
The unit's integrated motion sensors conserve energy by switching the fans and lights on or off mechanically when the user enters or leaves the room, no controls needed. Its Sleep Mode option means no more waking up to a chilly or drastically hot room since users can now select their ideal sleep temperature and have the Sleep Mode mechanically modify the speed of the fan to provide overall comfort all through the night.
Smarter Cooling lets users scrimp on energy by setting their thermostat a few notches higher than the standard while keeping them snug even with rising temps. Users can also program their units and lights to complement their schedule by making use of the Haiku Home application. Set the lights to switch on at twilight or switch it on or off while you are away from home for added security measures.
Smarter Heating allows users to conserve energy over the course of the autumn or winter seasons by moderately pushing warm air accumulating close to the ceiling down to users' levels and decrease the load off of their heater's shoulders.
Other Benefits To Enjoy
The company's units feature a patented LED light kit that provides 16 varying brightness settings to offer more options for the discerning user. LEDS are also durable so replacements are nil. In addition, switching to the benefits of LED lights will help you save up to 30 percent on lighting costs alone.
Thus it is undeniable; with ceiling fans from Haiku Home, you will be guaranteed excellent efficiency and ultra-responsive technology that will not only provide comfort, but year-round savings as well.