Indoor ceiling fans are probably one of the most important accessories that you can have. Not only do they circulate the air keeping you cool in your home when you need it during those summer months, but they also add value to your interior by way of design and appearance. They set the tone in your house and can really make a difference to the inside feel; not to mention indoor ceiling fans are a great way to save up on the electricity bills without losing your mind on a hot summer day. Here we shall go over some of the better indoor ceiling fans that you can purchase today.
Ceiling fans are a practical option if you're looking for a cooling appliance inside your home that wouldn't burn much of a hole in your pocket. The only problem is that, if you're looking for the best indoor ceiling fans, you might easily get lost on conversations like blade spans, blade pitches, and other ceiling fan lingo that you may not know.
With various ceiling fan available nowadays, how do you really choose the best one for you?
Know What You Need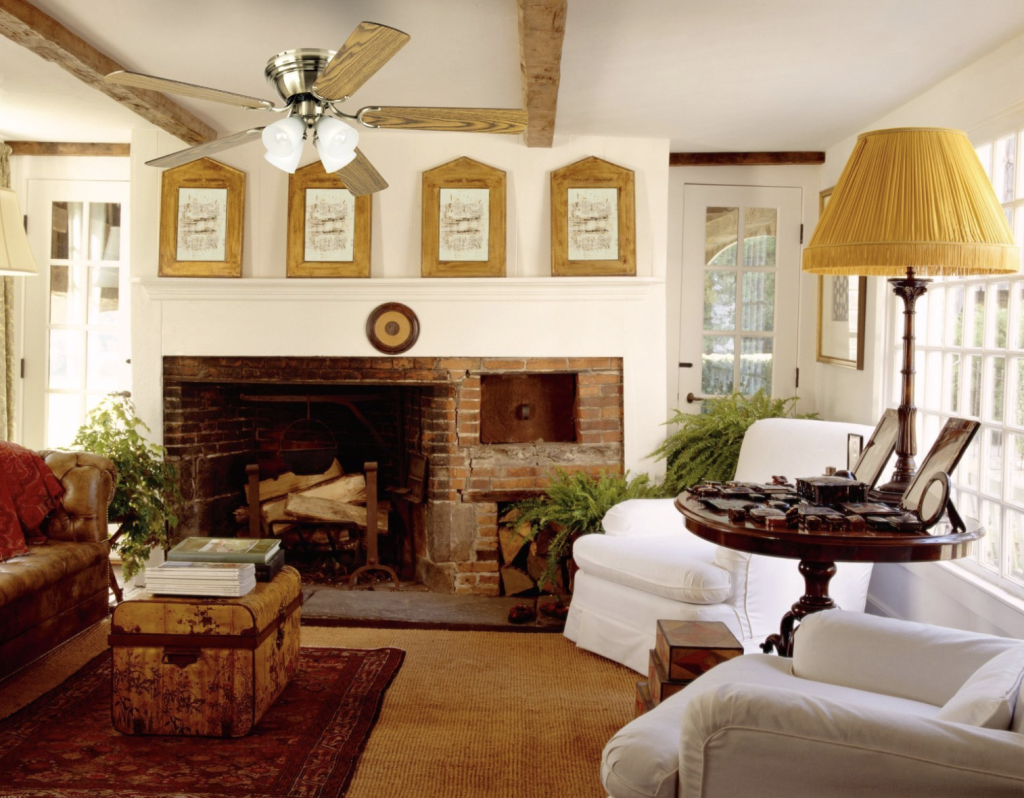 It's true that ceiling fans are used majorly for their ability to circulate and cool the air around you. But for some people, selecting the right kind of indoor ceiling fan is also about choosing the right style and color that would go well with their home décor.
You may or may not share the same sentiment but it holds true that if you're looking for a ceiling fan for your home, you should first be able to determine what you need to make your choice.
For a start, you should consider whether or not you'd like to go with indoor or outdoor ceiling fans. Ceiling fans meant for the indoors are not usually suitable to go outdoors; mainly because of the weather conditions. But outdoor ceiling fans can be used indoors.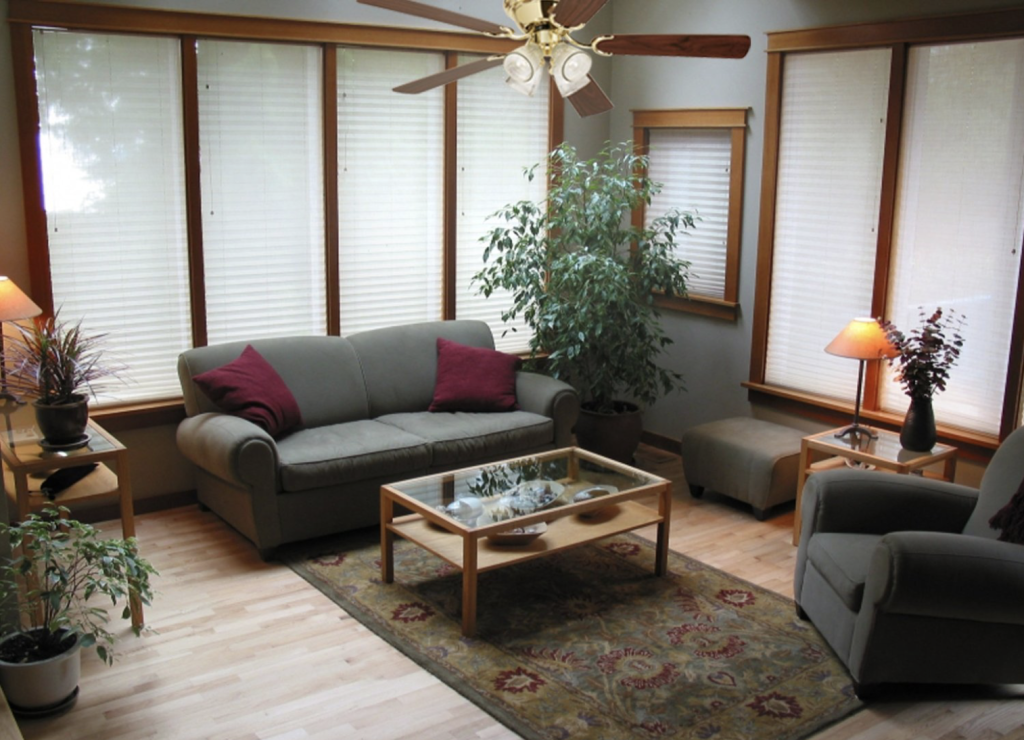 Most of the time, ceiling fans meant for the outdoors are damp and wet rated which makes them less vulnerable to changing weather conditions outside. If you're looking for indoor fans, you don't have to worry about this. However, you should ensure that the room or space where you will be installing your indoor ceiling fan is not damp or leaking to make it last a long time.
Also, you should determine the size of the room or space where you will be installing the ceiling fans since it will play a vital role in the selection process. There are ceiling fans available in different styles and they also come in different sizes. You should pick the right ceiling fan size for your home to ensure maximum air flow and fan efficiency.
The rule of thumb is that rooms that are 75 square feet or smaller should do with small ceiling fans or those with a blade size of 30" while standard rooms of up to 144 square feet should use standard-sized ceiling fans with 44" and large rooms from 225 square feet or more should go with industrial ceiling fans which are big enough to accommodate a large space.
You might also consider if you'd want your indoor ceiling fan to have an extra like a lighting fixture (ceiling fans with lights) so that it'll work double as a cooler and a source of light within your home.
The Importance Of Ceiling Fans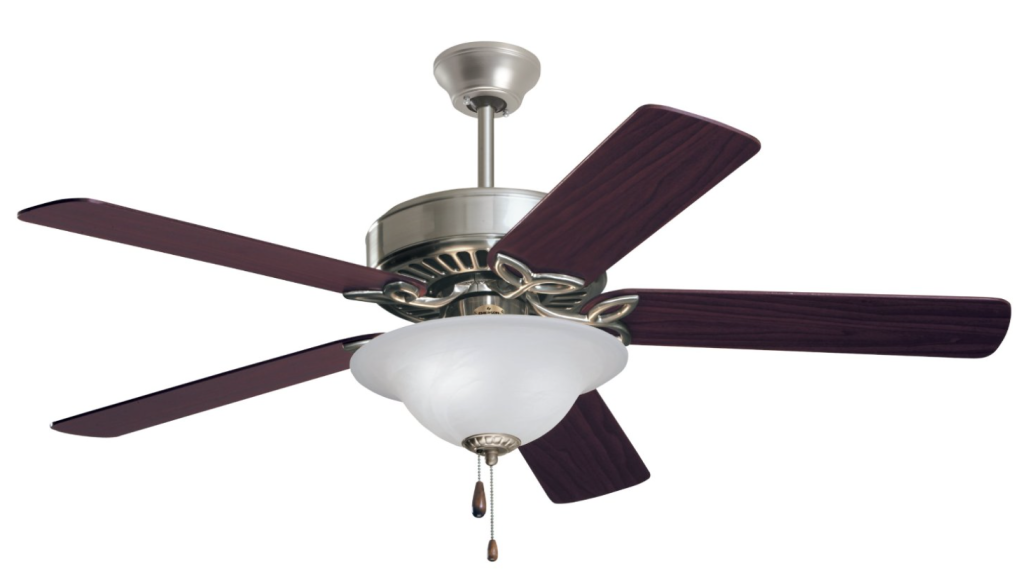 The American Lighting Association or ALA, the leading trade association representing the ceiling fan and lighting industry, encourages homeowners to install ceiling fans especially inside their homes.
It's common knowledge that ceiling fans have retained their popularity because of their best benefit: they save more energy so you get money savings from lower electric bills.
It's hard to keep a cool head and a calm disposition when your home gets too hot and too uncomfortable for you. But instead of a new air conditioner, you can invest in a ceiling fan which is more practical and does the same job but without the expensive costs that comes with an AC unit.
Another good point of why you should consider indoor ceiling fans for your home is that today's models are more energy efficient compared to older ones manufactured from five or so years ago. With the help of a ceiling fan, you can create an artificial breeze inside your home by simply setting your thermostat at the right temperature and let the ceiling fan do the rest of the work to cool your home so you'd have less and less need of using the air conditioner inside your home.
How To Place Indoor Ceiling Fans Properly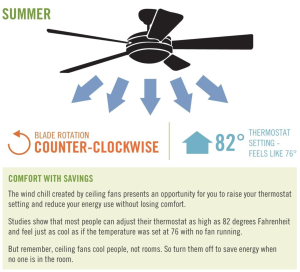 You might be curious. If you ought to buy each room in your home a ceiling fan, is it practical or too much? If you have a living room, one or two or more bedrooms, a kitchen, a laundry room, and a bathroom, installing ceiling fans on each is still a practical choice.
Take for example a bathroom. It may feel like an unusual location for you to have a small ceiling fan but it's a necessity if you want your bathroom to be stale-free.
Bathroom ceiling fans also eliminate the accumulation of mold or foul odors and even makes bathroom cool instead of the typical hot and sticky environment that it is on most homes. If you have a walk-in closet or a laundry room, a small ceiling fan would be advisable, too.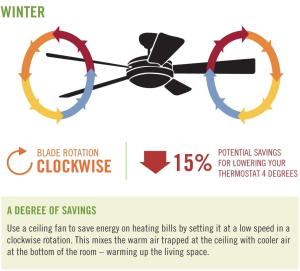 Take note that while the bathroom, laundry room, and walk-in closets are inside your home, you might want to choose an outdoor ceiling fan for them instead of an indoor one. As you have read earlier, outdoor ceiling fans are either damp or wet rated which is something that you need especially when you install a ceiling fan in these places.
All in all, one thing is clear: installing an indoor ceiling fan is a very good recommendation to follow for your home.
Reasons for buying an Indoor ceiling fan:
Keep you cool during those summer months which can be a real pain especially.
Fans look good inside a room and if it is selected according to a characteristic then it can look even better.
Cheaper and are a more ecologically friendly option than other cooling techniques, currently available.
Best Three Indoor Ceiling Fans
The indoor ceiling fans have become popular because they ease the strain on the pocket and yet add value to your home. These are some of the top rated fans you can buy:
Westinghouse Contempra IV Four-Light 52-Inch Five-Blade Indoor Ceiling Fan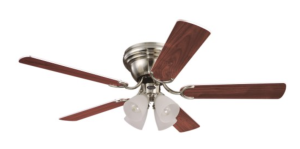 It is a part of the Hugger series of fans (flush mounted ceiling fans) and is ideal for rooms with low ceilings. The blades are reversible, with one side being white and the other white washed pine, providing versatility in home decorating. Both sides coordinate handsomely with the fan's antique white finish. This Westinghouse fan includes a four-light lighting kit with the four globes resting below and at the center of the fan in a square pattern, providing welcome light when necessary. The globes are made of frosted ribbed glass.
Pros:
Easy installation: One of the smoothest fans to install in your home.
Noise free: This fan hardly has any noise which would disturb you.
Decent breeze: The air circulation is quite good for a fan of this price.
Good value for money: It offers more value for money than a lot of fans in the market, by offering great performance and looks at a great price.
Cons:
Small screws: This is a very minor problem and only affects you if you have sausage fingers.
Stock lights: You can use only ceiling fan lights and not CFL's which is a big downer if you want to save on money.

Hunter Fan 52-Inch Five-Minute Ceiling Fan
This fan comes in a new bronze colour and is fairly traditionally styled. This particular Hunter Fan is a one with the three speed pull chain and is UL Indoor Rated.
Pros:
Great looks: It certainly is a good looking fan and provides good airflow all around
Bulbs are included: The light is well distributed and does not hurt the eyes at all. And the fact that the lights comes along with the fan is definitely a plus.
Cons:
Difficult to install: The fan can be an absolute pain to install if you have little knowledge about ceiling fans. Suffice to say you will need to have above average skills to put this one up.

Emerson Fans 50″ Pro Series Traditional Indoor Brushed Steel Ceiling Fan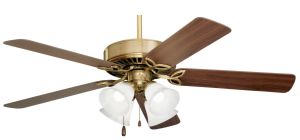 It is a Pro Series ceiling fan with the three speed pull chain with a brushed steel motor finish. The easy to align blade arms and easy install mounting bracket make this fan easier and faster than ever to install. The fan is also UL Indoor rated.
Pros:
Very easy to install:  It is one of the easiest fans to install on the market. It barely takes any time and the installation instructions are clearly laid out.
Large areas are this fan's specialty: No matter how big the space is, this fan easily delivers air to every nook and corner.
Cons:
Expensive: This fan is not exactly the cheapest one out there; however for the kind of performance that it delivers, this does not come as a surprise.
The pole: The hanging pole for some reason does not fit in very well with the looks of this particular fan.
Before You Buy
Buy an indoor fan and you won't have to worry about spending an enormous amount of money on your cooling needs during those summer months. Given the range of designs that an indoor ceiling fan can come in, you really have a lot of choice to go by. In fact you can even hunt down themed indoor ceiling fans such as baseball ceiling fans and vintage ceiling fans which will go well with a range of decorations.