Installing a ceiling fan in the kitchen is just one of the best things you can do on that particular area. Not only can ceiling fans cut down your cooling and heating bills quite dramatically by circulating air all over the space, it also maximizes its efficiency. You can reap its benefits all year round by changing the air direction of the device depending on the season.
It's the heart of the home; and, it's a room that shouldn't be overlooked when deciding on ceiling fan placement.  Kitchen ceiling fans are essential for aiding in cooling and heating, as well as adding a decorative, yet functional, accent to the room.  With a batch of designs ranging from country to traditional to ultra-modern, you'll be cooking up a new style in no time!
Another benefit of adding a ceiling fan to the kitchen is that it can provide additional lighting where it is needed.  For example, placing a ceiling fan over your island or other prep area means that you can use the light where you are working, rather than turning on every light in the kitchen.  Task lighting such as this helps to lower energy bills and improve efficiency.
Working around the kitchen can be hectic at times, so you need to be comfortable too, in order to avoid stress and keep up with those wonderful dishes. Here are more related information if you've ever thought of installing one.
How To Choose A Kitchen Ceiling Fan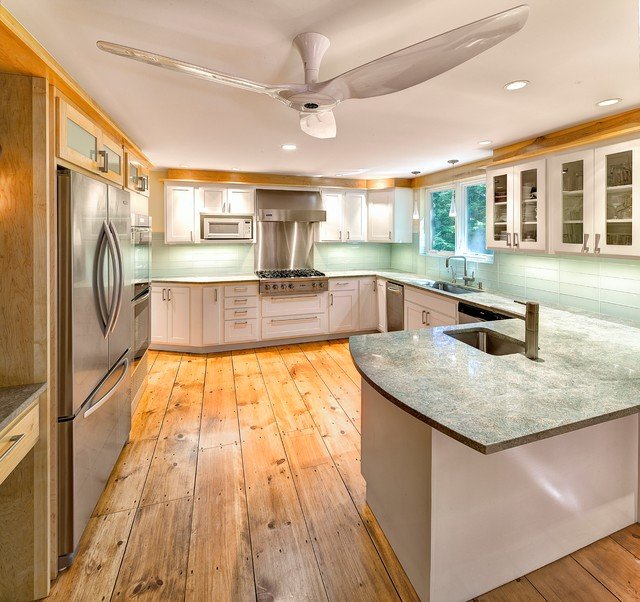 Shopping for a suitable model means you have to take into account some considerations so you can find one that best fits your kitchen. Kitchens tend to be small and crammed with cooking equipment so space is precious. Thereby a ceiling fan is actually a good type of unit to incorporate around the area, not the standing ones or compact models.
Easy Access
Easy access to a fan can be had with a remote-controlled model. The kitchen is one place where frantic activities can occur, especially during special events like parties with plenty of guests. All that running around tending one dish after another can cause stress and discomfort on all people involved.
In order to cool down and avoid the effects of hot steam gathering around the area, you need something that's within your reach. With just one press of the remote control, you can avail of the breeze a ceiling fan provides. You can adjust the speed settings with one click of a button as well.
Lighting
Lights should also be taken into account. A kitchen needs sufficient lighting especially if you're the type who de-stresses by cooking or baking in the middle of the night, somebody who's in the food business or a busy bee who makes early breakfasts in the wee hours of the morning. If you need some supplementary lighting for the area, you need a model that includes enough lights.
Ceiling fan with lights also adds ambiance to a space. Lastly, if you want to save more on those bills but you want to spend more time in the kitchen because of your fondness for cooking, you can get a model with the Energy Star approval.
Energy efficiency
Energy Star models usually distribute an average of 15 percent more air as compared with other models without forgoing elements like good designs. They are also 60 percent more efficient measured next to an incandescent bulb with 150 wattage.
Size of kitchen
It's also important to take note of the kitchen's dimensions, especially its height. The blades of the model should be at least 7-ft on top of the floor. Kitchens tend to be filled up with people, especially if you're the type who likes to have guests around whenever you are cooking.
People gather in the kitchen as well during parties so do consider the height aspect if you don't want your guests complaining of hitting the top of their heads on the fan blades.
Cleanliness
Cleanliness is required of kitchens because this is where we prepare our food. To avoid contamination, we must see to it that we clean the area regularly, especially the ceiling fan.
This particular appliance can be a trap for dust, grime and mildew especially if there's plenty of dampness in that part of the house. Just make sure that the device is cleaned often and it must not be installed directly above the preparation area or the stove/gas range.
Proper electrical wiring
If you want an additional device installed on your kitchen, make certain that you have its wiring scrutinized first before installing or buying the item. The kitchen is filled with electrical cooking devices and sometimes we can't avoid the fact that things can go wrong around the area.
Kitchens with older wiring systems might not be able to withstand the addition of another device so this poses a risk.
It has been said on some circles that ceiling fans offer no help inside the cooking area. Granted, there are lightweight items stashed around the room like plastic and paper bags for groceries, recipe clippings, important bills and notes stuck on the fridge. These items can be blown around the area by the fan and can fly straight through the stove; within seconds they can gather fire and turn your kitchen into a disaster area.
Thus, you might feel some apprehension. However, the kitchen will actually benefit the most with a ceiling fan. This place is an area where friends and family often gather to cook, bond and have great conversations over excellent food and drink. So it makes awesome sense that folks should consider making the cooking area a wonderful, comfortable place to hang out.
What to Consider
If you love country themes, you're sure to find fan blades with your favorite motif.  From roosters and apples to pretty floral prints, these blades are easily attached to your existing fan.  Rustic ceiling fans are also available for those who love the primitive or antique look.
The Arts and Crafts ceiling fan from Progress Lighting is a beautiful case in point.  This fan bears four Honey Art glass lights suspended from a weathered bronze body.  This is the perfect compliment to your antique flour bins, primitive breadboards, and vintage utensils.
Best Three Kitchen Fans
In deciding what type of ceiling fan to put in the kitchen, some pointers should be taken into consideration. A kitchen ceiling fan should aid in heating and cooling, add additional lighting, and improve air in the kitchen.
Monte Carlo Centrifica Fan
For those with an ultra-modern kitchen, the Monte Carlo Fans Centrifica is sure to please.  This fan features stunning brushed steel blades and a soft white light – perfect for adding over an island or other workspace.
It has a sleek-style design that can complement or accent any modern kitchen with stainless steel appliances.
With the blades fold away, a beautiful light fixture is seen out of this.
Its blades fold away when the fan is turned off.

Fanimation Bon Aire Ceiling Fan
If a truly functional kitchen is your desire, then don't miss the Fanimation Bon Aire.  This fan is an unbelievable combination of form and function.  At first glance, it appears to be a traditional pot rack.
However, cleverly hidden inside are dual fans, perfect for providing additional air circulation in an otherwise hot room.
Optional light kits further extend the functional capability of this fan.  It's a perfect choice for those with limited space since it makes use of every inch of its design.
Duplo-Dinamico Kitchen Ceiling Fan
This is a brand that not many people have heard of: Duplo-Dinamico. They have special designer model ceiling fan types that will look great in most modern houses.
Timeless and sophisticated aesthetic rotational ceiling fan.
Its motor heads can be infinitely positioned in 180-degree arcs for optimum air movement.
Its rotational fans circulate heat and air conditioning more efficiently than traditional paddle fans.
Its unique motor mount and fan head knob is made of genuine marbleized Bakelite. A flushmount adapter would be needed for ceilings lower than 98 inches.
Before You Buy
Having a kitchen ceiling fan is important as well not only for decorative purposes but also for comfort.  There are a lot of activities in the kitchen and having an efficient air regulator to maintain a cooler temperature is very much important so as to put the people in the kitchen in a comfortable situation such as the cooks or the individuals who prepare food.
It's plain to see that these fans are more than a simple combination of blades and a motor.  These ceiling fans are an essential element in kitchen design as well as money saving, functional, addition to your room.