These days everyone thinks sleek and crisp lines when buying a ceiling fan. They don't realize what they are missing by passing on rustic ceiling fans for their homes. Granted they may not go with every décor but you would be surprised at how easily it can fit in simply because most are manufactured with of course… wood – but also with pure bronze, copper and iron.
Back in the time of the 1880's when Philip Diehl first came up with the idea of the ceiling fan the concept has been continued basically unaltered which means that ceiling fans provided a gentle breeze from a motor with a number of blades attached. Even back in those days ceiling blades came in several different lengths and angled at various degrees for properly circulating air. And of course, back in those days country and rustic was the "in" thing.
Simple and refreshing, choosing rustic ceiling fans over other type of ceiling fan designs is a good choice. Why, the rustic style has its own rugged look yet a natural beauty to it. They are kind of unique ceiling fans. But do you know everything there is when choosing a ceiling fan sporting the rustic look?
Defining Rustic Style Ceiling Fans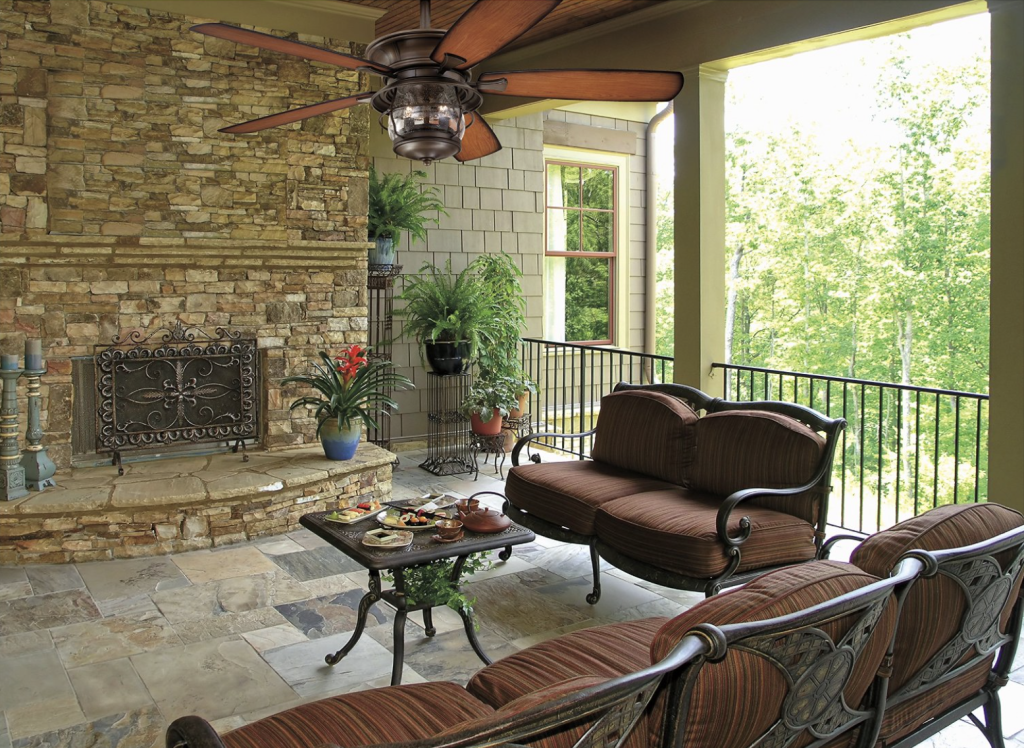 When it comes to choosing ceiling fans with the rustic design, you don't think about polished chrome metal. Instead, you think about organic textures, natural beauty, and ceiling fan pieces that will work in a lodge or a log cabin or any other similar setting with its natural and rugged decoration. There are so many different styles of ceiling fans that can be described as the rustic style.
Also, going for rustic décor gives anybody a sense of connection with nature that is just hard to resist. Most of the time, any décor with its rustic form will look simple and honest in its beauty. It can also become an ingenious style that is bolder instead of just being plain.
If you're the type to enjoy a home or an environment where it feels close to nature, then choosing rustic ceiling fans would be the perfect choice for you. But if you're finding a hard time making some choices, here are some style design ideas that might prove handy for you.
Organic Form Ceiling Fans
This style type of ceiling fans with a rustic design is perhaps next to the most popular. This is because the organic form style offers a smooth and sleek surface to go with any type of décor. The organic form is more common on ceiling fan blades compared to rough-hewn ones simply because they're sleeker and cleaner as a design form.
Rough-Hewn Blades
For many people looking for things with the rustic design, the use of rough-hewn woods always top the list. That is, if you're going to choose a ceiling fan with a rustic theme, you can always choose one with this kind of blade design.
It might look unpolished and rough to you but it has a natural form all by itself that will fit just about any type of rustic setting or lent a sophisticated environment a rustic charm like pairing a rustic ceiling fan with smooth or glossy walls for a beautiful contrast.
Contemporary Rustic
There is also what you call the contemporary rustic style that combines the elements of a contemporary and a rustic design. Ceiling fans with this kind of rustic style has a light and fresh look to them that is suitable to just about any kind of homes décor.
Warm And Earthy Tone Colors
Sometimes, the tone and color of your rustic ceiling fan is just as important as the materials you choose. The trademarks of a rustic design are its neutral, warm, and earthy tones. With natural, you get woodsy tone, the brown color of the soil, or the sometimes dark brown of stones you see roundabout. If you want to have the warm and earthy feel and look for your home or building, you should stick with the color brown; all rustic ceiling fans can be brown but the difference lies whether it's a clear brown or a much darker shade.
Weathered Materials
If you're aiming for the homey look with the combination of its own story to tell, choosing the type of ceiling fan using weathered materials would be for you. That is, you can always choose weathered materials with its own touch of patina if you want the appeal of an aged look. This way, you won't have to worry about the lack of shine because the weathered look of the ceiling fan itself will speak for its beauty. You can find rustic ceiling fans for indoor use and for outdoor placement. Just make sure you check the UL rating of the fan.
Repurposed Rustic
Unlike before, ceiling fans nowadays can also be used as a chandelier. That is, aside from properly circulating air around your home, it can also be used to light up your room. Some rustic ceiling fans do provide lighting the traditional way using a single dome lamp while others are designed like chandeliers with separate bulbs placed on several receptacles.
If you get lucky enough, you can find some ceiling fans, which can also be simply deemed a décor thanks to their intricate design depicting nature. When you scout the market, you will find some ceiling fans sporting nature artwork displays and other decorative design to make them look better inside your home. That is, they can simply become rustic décor in your home when not in use and serve their purpose when needed.
Remember, when it comes to choosing the best rustic ceiling fan for your home, sticking as much as possible to raw and natural materials is the best way to do it. Compared to their contemporary counterparts, rustic ceiling fans sport a wider blade instead of the sleek design that is common to modern ceiling fans nowadays. Also, rustic ceiling fans go best with home designs with neutral and natural colors with white being the best color for balance.
Rustic Ceiling Fans Ideas
Nowadays your can still find that perfect rustic fan to match the style you had in mind. There are several brands manufacturing rustic styled ceiling fans. Check out the Monte Carlo's rustic/country ceiling fan with it weathered looking iron décor. Another one by Monte Carlo is the Old Chicago Rustic/Country ceiling fan which is both a fan and chandelier with pine cone and log accents.
Aspen offers a rustic five bladed ceiling fan with brushed Amber glass that is enhanced by weathered Bronzed patina. In fact Aspen has a whole motif collection of rustic lights intertwined with pine trees or pine cones just waiting to compliment their rustic ceiling fan.
Best Three Rustic Ceiling Fans
Monte Carlo Great Lodge Ceiling Fan

Features a strong 188x22mm torque-induction motor.
Has a 16-degree blade pitch for optimum air movement.
Is remote control adaptable.
Has precision balanced motor and blades for wobble-free operation.
This Monte Carlo ceiling fan model may have the limited lifetime warranty however, consumers are still assured that this fan model is of high quality and thus can last longer.
Concord Ponderosa Traditional Fan

Features a 188 x 15 mm motor.
It is equipped with a reversible airflow.
Has a remote control mechanism.
One downside to this fan model comes in smaller size than the others such as Monte Carlo.
Concord Ponderosa might be smaller in size compared to the Monte Carlo but it is also effective and exceptionally beautiful.
Casablanca Wilderness Textured Fan

Features a 188 x 20 mm motor.
Has a built-in 2-3 touch speed remote control mechanism.
A little costly compared to the first two.
One of the heavier ceiling fan models in the market. This Casablanca fan model may be a little costly than the other but still bears the same quality.
Before You Buy
Rustic ceiling fans, no matter how modern or chic an interior house design is will always find their way to blend in and be a part of the total décor.  For some people saying that rustic fans no longer fit in today's modern stylish interior designs do not fully realize that rustic fans can way blend with just any design.
Its unique and authentic rustic look can compliment any interior design; making the addition of them seem more natural, which brings that comfort feeling.  Rustic ceiling fans always bring with them that welcoming feeling of coziness that people will definitely love.
Being rustic simply means being natural and natural, just naturally brings comfort to any home.