You really don't have to be an expert when you buy ceiling fan. Everyceilingfans.com will help you make the best decision! A good quality, energy efficient ceiling fan and relatively cheap ceiling fan is rare to find because most high quality fans (for both summer and winter use) are almost always accompanied with a hefty price tag. A substandard fan on the other hand may come in cheap but it might just make things worst for you throughout the year.
As a buyer, you have to consider many factors before you finally get to decide and choose the best cheap ceiling fan. Remember though, ceiling fans do not lower the temperature present in a certain space. It circulates air effectively so that it will be efficiently utilized in the area thereby cooling down or heating up the room.
Before you pick up your wallet and check your balance on that credit card let's take a deep breath and consider all options. Such as: nature of ceiling fan needed, design possibilities, any accessories desired, installation process and… oh yes, exactly where you can find an amazing selection of cheap ceiling fans to choose from.
There is an endless supply of affordable models to choose from these day and all you have to do it visit your local hardware store or how about grabbing a cup of coffee or tea and sit yourself down at the computer. Internet surfing is an excellent way to go since you can safely and easily purchase one online. It's a great way to be sure they have the ceiling fan in stock and to verify the price.
Before getting into further details, here's pretty basic knowledge about ceiling fans.
Basic Types of Ceiling Fans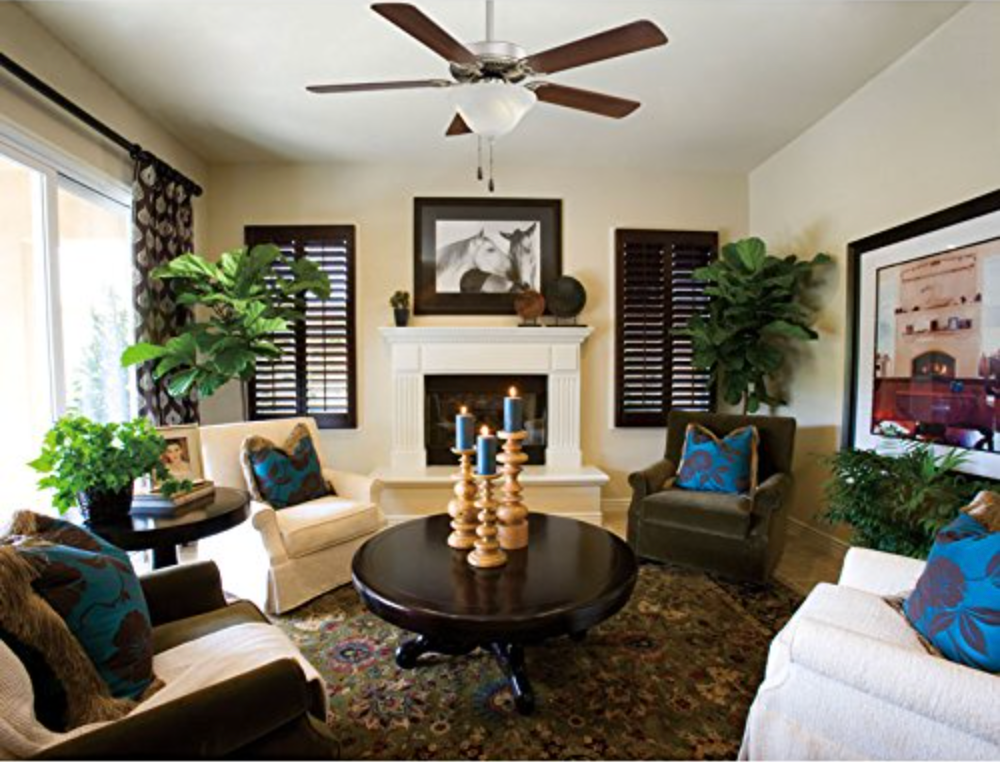 Basically, people are faced with the three common types of ceiling fans. From these types vary the make, quality and the price.
The oldest type of ceiling fan, stack motor type of ceiling fan is one that you see wherein the fan is placed under the motor. The motor is found inside the fan's base while the blades are hanged to a prop that allows the motor to run. This type of ceiling fan is a good choice in that it lasts longer, cheaper and barely makes any noise.
It resembles like that of a stack motor ceiling fan only that its blades are directly attached to the motor. The disadvantage about this type of ceiling fan is that it makes noise and is considered to be less durable. You will find out that it's not hard to find this type of ceiling fan in stores and may come fairly cheap.
The above two types of ceiling fans have all to do with the motor. This third types can come with either motor system but with the difference of with or without light(s) in the ceiling fan. A ceiling fan with lights is practical in that you don't have to buy a ceiling fan and light separately. Usually, they come in adjustable speeds that may be controlled by pulling a cord or using a remote control to activate the speed.
Looking for a cheap ceiling fan? Here's what you need to know
When you're in a tight budget and you badly need to buy a ceiling fan, you really don't have to go for substandard fans and sacrifice quality. It's unpractical and will even cost you more than what you have budgeted it for.
Truth is, there are numerous types of cheap ceiling fans and they come in variations, sizes and styles. They even come in really chic design and would fit in well with the rest of your room's overall design.
Below is a guide to help you get started in scouting for that really cheap ceiling fan.
How big is your room really?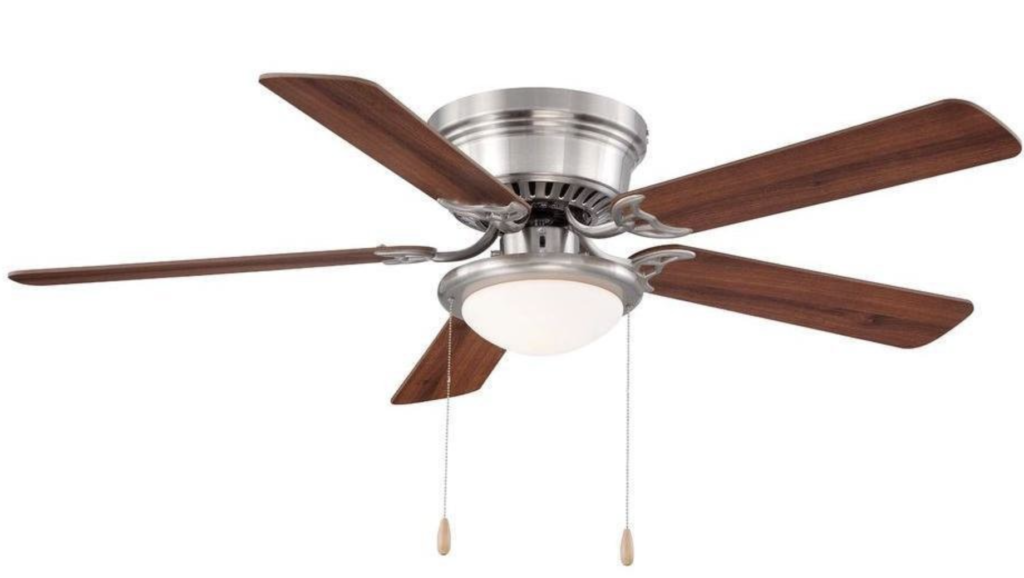 Looking for a bedroom ceiling fan? Or perhaps even, a smaller unit for your vent-less kitchen or bathroom. Wondering how much it will cost and how badly it will empty your wallet? Believe it or not there are inexpensive ceiling fans out there.
It's a wrong notion that when you have bigger fans, you get to have better air circulation inside a small room. Not only are you prone to accidents, air circulation won't be as sufficient as it would have been had you purchased a more appropriate ceiling fan for your room's size.
There's only one simple room for this: The larger the room, the bigger the ceiling fan should be. It would be cost efficient for you to pick a ceiling fan that isn't too large or too small for your room size.
Where do you want to install it?
Will the ceiling fan be placed indoors or outdoors? Knowing where to place your ceiling fan trims down your wide choices.
Indoor and outdoor ceiling fans are created specifically for their use and the location they're supposed to be placed. Therefore, deciding where you want to have it makes it easy for you to choose and even pick the cheapest fan. In general indoor ceiling fans are more budget friendly than the outdoor models.
Quality of materials used
As a buyer, you always have the right to check and research the materials used of the ceiling fan you are about to buy. Just because a certain ceiling fan might be cheaper than other brands, it doesn't necessarily follow that it used cheaper materials. There are always those manufacturers who priced their products reasonably without compromising quality.
Also, the heavier the parts are the lesser will it produce noise and make any wobbling. However, you should consider that these parts must not hamper the motor speed's ability. Check if the motor heats up fast, because if it does then you shouldn't go for it.
Don't only look for the price tag; look for the Energy Star label
You know that you have bought an energy efficient ceiling fan if it has an Energy Star label on it. However, most ceiling fans with this label has been known to be expensive. Just don't lose hope, though because you'll sure find an Energy Star ceiling fan that is within your budget.
Looking for a cheap ceiling fan doesn't always have to be on the price tag alone. There are always these considerations so that when you buy a cheap ceiling fan, it's not only because it's cheap as it is but because it has everything you wanted and perhaps, hoped for a budget friendly ceiling fan.
Best Three Cheap Ceiling Fans
Good thing though that there are still cheap ceiling fans that are of quality as well. These ceiling fans also come with extra features aside from being affordable, which include being efficient and made to last longer.
Westinghouse 7861000 Contempra Trio Ceiling Fan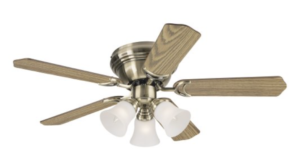 This is only one of the many great Westinghouse ceiling fan products from a very extensive list.  All Westinghouse ceiling fans are enhanced by stylish features and a lot of them are available for reasonable prices that anyone can afford.
This particular fan is a flush mounted fan for lower ceilings which means this particular item would not be suitable for you if your ceilings are above 8 feet. Not to fret though because there are cheap priced ceiling fans out there for this height requirement as well.
Equipped with reversible rosewood or bird's eye maple blades and frosted glass
Equipped with a three-light lighting kit
Also with an antique brass finish
One of the most sought out brands in the line of cheap ceiling fans is the Westinghouse 7861000 Contempra Trio. This is a flush mount ceiling fan style and is suitable for rooms with eight foot ceilings or less.
Hunter 53057 The Astoria 52-Inch Five Blades Ceiling Fan
Has a whisper wind motor
Comes with a 120-watt bowl light fixture
It has the 5-walnut and oak blade
It comes with Installer's choice of 3-position mounting system
As with flush mount fans, one disadvantage of this fan model would be the lack of airflow because of the short distance of the blades from the ceiling.
Hampton Bay San Marino 5-Blade Ceiling Fan
Perfect for small to medium rooms
Its motor is enclosed to provide quiet performance
Comes with 3 speed settings
3 lights with 9 Watt bulbs
This type of fan provides an efficient air flow to the room giving a refreshing feeling regardless of its lack of small features that will add more beauty to its look.
Before You Buy
Consumers must bear in mind that being economical in finding cheap ceiling fans must not mean compromising quality.  There are several cheap ceiling fans out there if consumers know where to look.  A research about these budget friendly ceiling fans here and there would not hurt.
Of course when you start investigating ceiling fans you will find, the fancier it is, the more detail it sports, and depending upon accessories, the price can get hefty. But if you're in the market for a ceiling fan that does its job while still being attractive with simple design lines there are affordable ones available. Go on… go get one!