Unlike common belief, choosing just about any ceiling fan for your home wouldn't do. While it's easy to get lost in choosing from a wide array of ceiling fans, the size of a ceiling fan is very important for you to consider. As you could expect, there are small ceiling fans, standard sized ceiling fans and large ceiling fans
Ceiling fans comes in all shapes and sizes. Small ceiling fans are perfect for rooms which are 10 square feet apart or less. A small ceiling fan is essentially one which is 48 inches across or less. Fans should go with the size and décor of the room and should add to it, which squarely puts the size of your ceiling fan on the highest priority. It also goes without saying that a small ceiling fan would greatly reduce the energy consumption, in fact the energy consumption of small ceiling fans is even lesser than regular ones.
Why space matters
If you have very limited or small spaces, using small ceiling fans are more likely for you. Using a small ceiling fan for a very large room might not give you the cooling effect you're looking for. In the same way, choosing a too large fan for your room might make it look cramped too much and become a bother instead of a help for you. Many ceiling fans brands have small ceiling fans in their assortment.
Avoid that by choosing the right size of ceiling fan, which should be installed inside your rooms. Not only will it make your rooms cool, it'll be effective at turning stuffy spaces into comfortable places for you, too.
The different sizes of ceiling fans
While ceiling fans come in all types, shapes, styles, and designs, there is only one part of them in which they are sized: using the fan blades. Since the fan blades will occupy the most space in your ceiling, it's important that you know how long your ideal ceiling fan's blades should be.
When it comes to that, there are four different sizes of ceiling fans that you should know: standard, large, mini, and small ceiling fans.
Mini and small ceiling fans
These types of ceiling fans are best if you have a small bedroom, a walk-in closet, or a small kitchen that needs cooling. Ideally, the size of the room you are looking for a small ceiling fan is about 75 square feet.
A fan with a maximum size of 36-inch is a good choice to cool down the place. On the other hand, if your space is much smaller than 75 square feet, then you should opt for mini ceiling fans, which have blade sizes starting from 20 inches.
As the name implies, standard fans are the typical size ceiling fans you see on most markets. Standard fans are fit to use on medium size rooms of about 76 square feet to 144 square feet and you have the option to choose a fan from 36 inches up to 42 inches.
Large ceiling fans
If you have a really large space like a 145 square feet living room or 225 square feet for just one bedroom, it's better if you choose large ceiling fans with fan sizes from 52 inches and above. Ceiling fans of this type are made solely to accommodate large spaces and are efficient enough for your cooling needs.
But if you really have a large room, then you might want to choose special type of ceiling fans like gyro ceiling fans or go with industrial ceiling fans which are much bigger than the standard ceiling fans. If you want to do it the traditional way, you can just install multiple ceiling fans from within the room to achieve the cool environment that you want.
Also take note that there are other available sizes of ceiling fans available in the market. The best way to for you to know which ceiling fan size is the best for your room is to know first the exact area measurement of the room where you will be installing the ceiling fan.
Other Important Considerations To Keep In Mind
Height
Some buyers who do not know how to maximize the airflow efficiency of a ceiling fan often overlook ceiling fan height. If you want your ceiling fans – small ceiling fans they might be – to provide you with the most air circulation for maximum comfort, then you should consider putting the fan at least 7 feet above the floor.
On the other hand, the optimal placement for a ceiling fan is between 8 to 9 feet especially if you have high ceilings. If you don't have the height, you could opt for a hugger style or flush mount ceiling fan.
Blade angles
You should also be aware that blade angles play an important role in the cooling efficiency of your chosen ceiling fans. According to the American Lighting Association (ALA), the best angle for ceiling fans to achieve optimal circulation is around 12 to 15 degree.
The rule of thumb is that the greater the blade angle, the better the air circulation would be inside the room. Of course, you should ensure that the ceiling fan itself is balanced and matched well with all of its parts so that it doesn't wobble and affect its efficiency. A strong support is always necessary given the constant centrifugal motion of the fan and its heavy weight.
Small Ceiling Fans
Without a doubt, small ceiling fans will always be cheaper compared to their larger size counterparts. Ceiling fan prices range from as little as $40 to a hundred dollars or more depending on the quality considering its style finish, motor, and other accessories.
But if you were the practical type who appreciates 'cute' things that works just as well as other expensive types, going for small ceiling fans would be your best choice to save on your shopping and your electric bills as well.
Reasons for buying a Small ceiling fan
Greatly reduced energy consumption.
Small Ceiling Fans are usually not expensive (unless brand names come in).
These are actually quite versatile and work for small to medium sized rooms and also ones with low ceilings.
Parents prefer these types of fans for their children's rooms.
These fans are perfect for hallways and walk in closets.
Yes, small ceiling fans are a rage these days and if you think that these can fit into your haven then by all means get one. Having said all that lets look at some of the options you have:
Best Three Small Ceiling Fans
Minka Aire Supra 32 Inch Small Ceiling Fan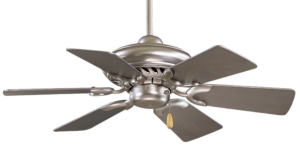 The Minka Aire ceiling fans are an excellent add-on to any house. These fans are affordable and moreover, they offer the unique combination of excellent functionality with great quality.
Pros:
Good speeds: For a fan this small, it runs with a good speed and is quite breezy.
Attention to detail: The good people at Minka sure paid a lot of attention to every minute aspect of the fan when they were designing it.
The fan is small enough to fit anywhere: The fan can fit well into most small rooms, hallways and closets.
Cons:
Slightly expensive: The fan is a little too expensive for its size and features and you just might find better offerings out there from other manufacturers.
Casablanca Wailea 31 Inch Small Ceiling Fan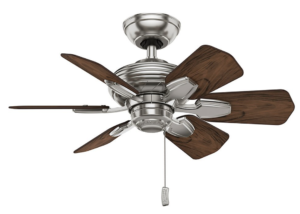 The Casablanca Wailea offers great combination of elegance and utility along with affordability. You can change the rotation of the blades whenever you want, and the angles at which the blades are set enhance the fans performance considerably.
Pros:
Great efficiency: Offers good efficiency and plenty of cool air all around the room.
Solid design: The design gives you a feeling for solidness and it is quite a powerful fan. Moreover the fan's rustic iron looks are definitely appealing.
Warranty: The fan comes with a lifetime motor warranty.
Easy on the pocket: It is quite a cheap ceiling fan, and can fit well into the budgets of most people.
Cons:
Noticeable hum: The fan has a slight hum which is a little irritating to the ears. People with sensitive hearing will probably find it hard to ignore.
No remote control for the lights: The lights cannot be dimmed or brightened with the aid of a remote control.
Monte Carlo Colony II Small Ceiling Fan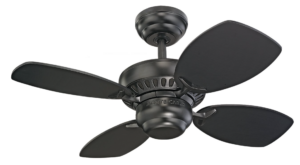 Monte Carlo, are popularly known as the "Architects of Air" and offer some very popular small ceiling fans that provide excellent air circulation and cooling for small to medium sized rooms. Monte Carlo ceiling fans have a reputation of providing fans which not only look good but also perform well and are considered one of the best ceiling fans of all kinds. The Monte Carlo Colony II fans series is one of the best sellers in the ceiling fan market.
Pros:
Simple functionality:  The fan is essentially very simple to use and the installation instructions are clearly laid out.
Looks decent: The fan is pretty decent looking and will fit into most home decors.
Remote controlled: Offers a wide range of functionalities which can be controlled with the aid of the provided remote.
Easy to fit: The installation is a breeze, so to speak.
Versatile uses: The fan will go well in hallways, utility rooms and closets.
Cons:
Low breeze: The fan really struggled to produce the kind of output that was desired from it, although this is a minor issue and it will satisfy most users.
Before You Buy
The fans discussed above are the best small ceiling fans out there and you really cannot go wrong with any of them. The small ceiling fans are absolutely essential for houses with small rooms in hot and humid places. Coupled with the low electricity bills that these fans produce, you really have no reason not to get one for yourself. Imagine enjoying a cool breeze in the comfort of your home on a hot summer day without needing to worry about an exorbitant electricity bill, yes these ceiling fans do exactly that!