Ceiling fans are more than just devices made for comfort. Other than cooling you throughout the summer, it can also circulate warm air that will benefit you during the fall and winter seasons. Apart from those benefits, it can also guarantee a good reduction in your energy bills.
When you install the Energy Star ceiling fans, you do a lot more. You can easily beat the heat in summers without needing to worry about exorbitant electricity bills. These fans are all about efficiency, by installing Energy Star fans in your home you can lower the temperature by as much as 10 degrees at lower power consumption. More and more ceiling fan brands are manufacturing models with Energy Star certification.
Ceiling fan types stamped with the Energy Star certification seal all meet the EPA's standards to earn its energy-efficient features. This article will further discuss why we need devices with Energy Star approval so read away before shopping for a model marked with one.
Energy Star Facts
What does the Energy Star evaluation mean, what does it do exactly, and what makes devices given this evaluation more effective in reducing energy as compared with other run-of-the-mill devices?
In 1992, the United States' Environmental Protection Agency (EPA) developed a program as a process to recognize and endorse products or devices that are energy-efficient. Models with this particular logo present a means for companies and consumers to minimize energy consumption and simultaneously protect the environment as well.
From the time the program was launched, the government has teamed up with other people and businesses to provide support and spread out the program. Other than home appliances, the program also included buildings and houses. A ceiling fan with the Energy Star stamp is by all means, not a better ceiling fan than a conventional one but to get that label, it should go through stringent energy-efficiency criteria as laid out by the committee.
The factors concerning ceiling fan efficiency often include the blade and motor design. Conventional models usually have flat blades accompanied by a single phase induction motor. The shape, pitch and amount of blade can drastically affect airflow thus it can impact a model's efficiency.
Back in the day, ceiling fans are typically built with 5 blades while modern fans of today now come with either 2, 3 or even more than 5 blades. Models with brushless DC motors were proven to be quite efficient since they significantly decreased energy consumption by 2/3 measured against traditional models.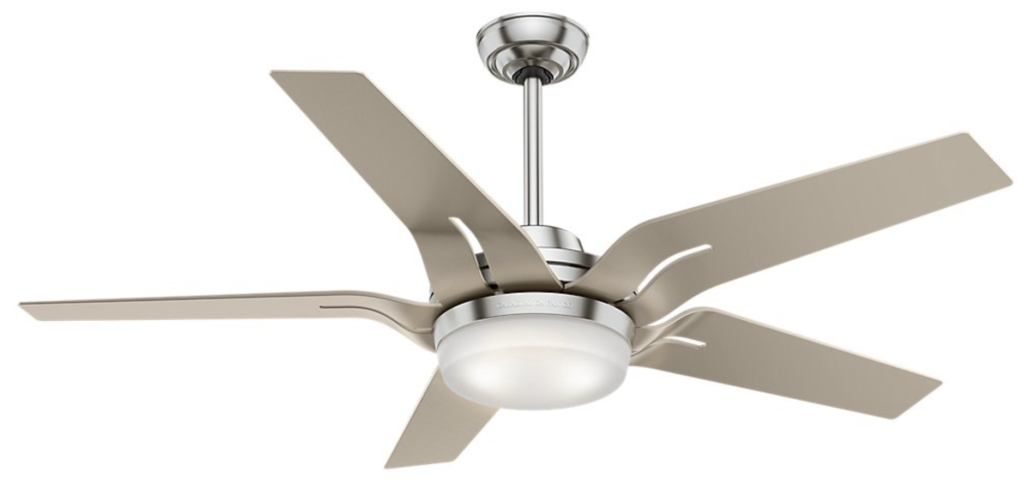 The use of this particular motor have become widespread in the U.S.A—major fan brands have launched products with the motor and by 2013, the EPA founded the Energy Star Most Efficient standard directed at distinguishing models that use DC motors.
If you're looking for an environment-friendly fan model, you should look not only for the label but its energy guides too. Sure, there are models claiming to be as efficient as the next model with the label, however it might not correspond with the standards set by the Energy Star program. The energy guide ratings for electric devices will display their normal usage by means of kWhs each year; it is considered cost-efficient if the device displays a low energy rating.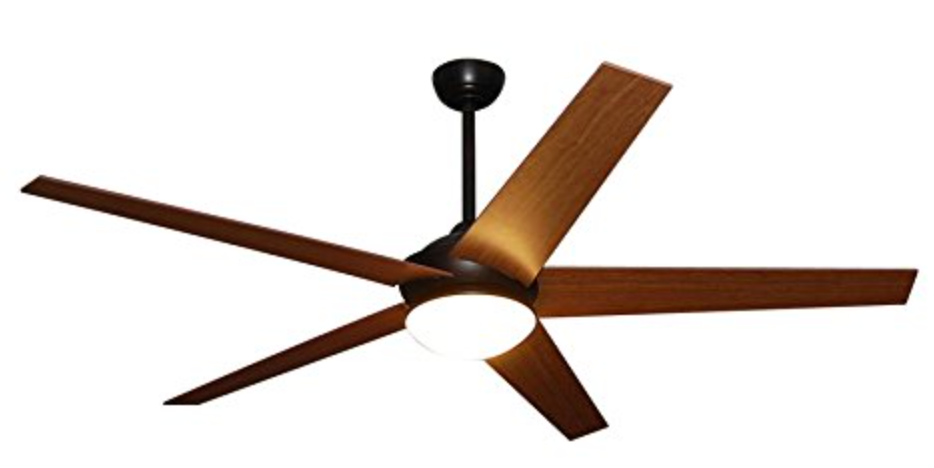 It should be mentioned here that to earn an Energy Star rating, a ceiling fan must meet the criteria for ceiling fans as set by the U. S. Environmental Protection Agency. The usual specification for an Energy Star rating is that that it must have airflow of 5,000 cubic feet per minute, also known as CFM, and an efficiency of at least 75 CFM/watt at high speed.
You should check out the program's official website and consult or download their ceiling fan spreadsheet too. The Excel format spreadsheet lets homeowners classify models by size, brands, effectivity (including speeds) or any other particular factors. It is in fact a great reference because you will gather plenty of information on different models in a short period of time.
Below are other criteria listed by the EPA for Energy Star-rated ceiling fans:
Energy-efficiency
Energy Star models should substantiate their efficiency by means of performance tests. The EPA ascertains a product's efficiency by computing the CFM's (cubic feet per minute) whole airflow for every watt of power expended by the controls and the motor. All speeds available on the model are calculated.
The EPA states that for a fan to get Energy Star approval, it should provide minimum airflow of 1,250 CFM and an efficiency of 155 CFM/watt on low speeds while fans on high speeds should present a minimum airflow of 5,000 CFM and an efficiency of 75 CFM/watt.
Models should have a minimum motor warranty of 30 years plus 1-year component warranty. Those with lights should have 2-year lighting kit warranties as well.
Price
If a model is pricier as compared to a standard model, homeowners should be capable of regaining their investment by means of energy bill savings within a logical period.
Maximize energy-saving benefits by mounting ceiling fans on key spots in your house or workplace. Rooms which are used frequently should have a model installed. For better performance, the model's blades must be situated 10 to 12 inches beneath the ceiling and a good 7 to 9 feet over the floor of a room.
If for example the blades of the model are located too near to the ceiling, rotating it in reverse during the winter and fall season won't be as effective and it won't also work to its full potential in the summer. Lastly, the blades of the fan must be a good 18-inches away from the closest wall.
How to Provide Energy Efficiency at Home
Ceiling fans with the Energy Star are designed with enhanced blade shapes and motors that help distribute air effectively as measured against conventional models. Consumers who want to give their air conditioners and heaters a rest, they can do so with Energy Star-approved ceiling fan models.
Helping protect our environment is a must these days. The cost of energy consumption is not only putting a dent in our wallets, but it's also affecting our surroundings because of greenhouse emissions. Ceiling fans with Energy Star approval are available in the market and they can also come equipped with lights.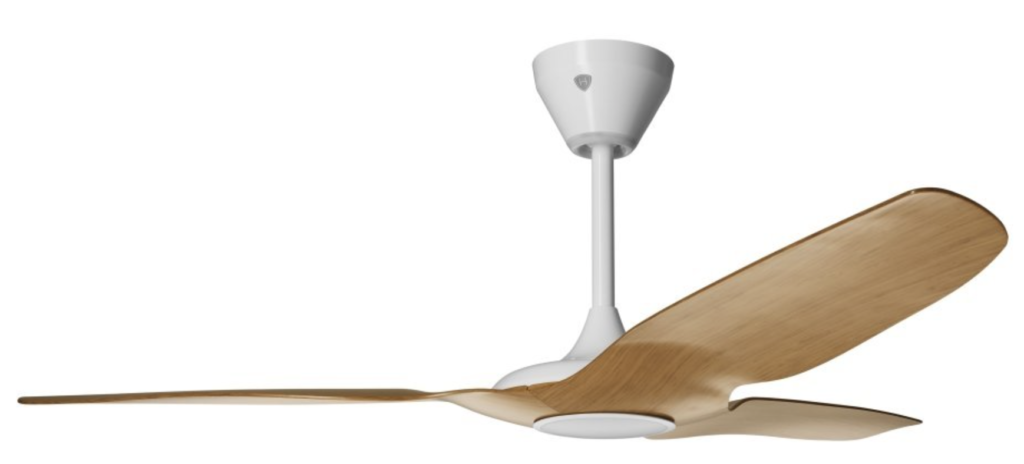 An Energy Star model with lights can provide savings on your electric bills; they are 50 percent more efficient than a standard model with lights and you can get savings from up to $15 a year. They consumer fewer energy to work and they produce less heat than the common luminous lighting kits. Furthermore, these models last 10 times longer than standard ones and homeowners only have to change the bulbs once after seven years.
There are available Energy Star-rated ceiling fans meant for outdoor and indoor use. The outdoor models provide comfort to places outside your home like the porch or the courtyard. To take advantage of an Energy Star-rated model, adjust the settings and guarantee that the fan must be fine-tuned to spin air in a downwards direction to produce a good breeze during a hot day while in winter it should be adjusted in a reverse or clockwise motion to pull in cool air upwards and push forward warmer air.
This is not a complicated move to do since most assemblies have a switch that is situated close to the motor over the blades. Users can also use buttons for Reverse and Forward options on a model's accompanying remote control.
Energy Star Ceiling Fans with Lights
To save even more, you might think of getting an Energy Star ceiling fan with lights. These models are very environment-friendly, provide consumers with savings on their bill, distribute 15 percent more airflow than traditional styles and they can do all that without forgoing great character and designs. Energy Star models operate more efficiently than incandescent bulbs with 150 watts by a good 60 percent.
Light kits for the fans are available on the models themselves, sold individually or added during the buying period. Light kits that are retailed individually are universal, therefore they can be employed on several varying ceiling fan models. By the same token, majority of models are light kit-friendly but there were also cases wherein this adaptability only happens among fans and light kits coming from the same company or brand.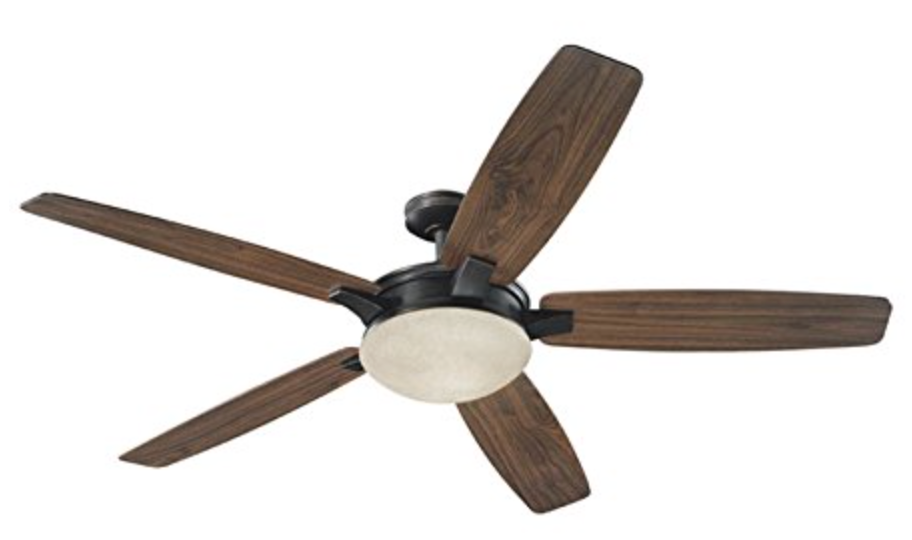 Most Energy Star fan models with light kits comes with compact fluorescent light (CFL) bulbs. On the other hand, Energy Star ceiling fans with light fixtures are few in number and the choices for add-on lighting kits with Energy Star ratings are even scarcer so one good alternative to this issue are CFL bulbs.
Before purchasing a light kit though, you have to guarantee that it's CFL bulb-compatible. Size of the light kit should be taken into consideration so you have to know if a CFL bulb will fit into that particular lighting fixture. Typically, single-light globes that use more than one bulb and low-profile globes are not CFL bulb-friendly while those kits with 4 lights usually take in CFL bulbs.
In addition, homeowners should also keep in mind that CFL bulbs are not good subs for halogen bulbs since the latter employs a certain kind of socket that is different from the CFL kind. Since majority of ceiling fans include wall or handheld remote controls, you should look for specific CFL bulbs that can manage the light dimmer function.
To get an Energy Star-rated CFL bulb with a proper quantity of light, look for a CFL that is a direct equivalent of the incandescent bulb you are going to change. Manufacturers always have the date posted on the device's packaging so homeowners can easily look for a corresponding bulb. In addition, consumers must also inspect the lumen rating in order to find the proper CFL replacement and keep in mind that the higher its rating, the better its light production.
Reasons for buying an Energy Star ceiling fan
Easily save you money and the environmentally conscious people will definitely appreciate the fact that it saves a lot of resources too.
Usually not too expensive, and can be afforded by people on lower budgets.
Because of their lower wattage, you can get more air circulating than you would have with standard non Energy Star Fans.
Save a LOT of electricity in fact your electricity bill can go down by 40%, which is quite a bit both in the short and the long term.
Energy Star ceiling fans have become very popular these days, especially with the current crop of financial problems as more and more people prefer to use means to bring down costs as much as possible. Many people think that the Energy Star certified fans are the best ceiling fans available on the market today.
Best Three Energy Star Ceiling Fans
Now, let's look at some of the options you have:
Hunter Palermo 52-Inch Energy Star Brushed-Nickel Ceiling Fan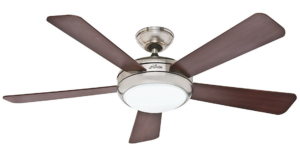 Hunter makes some of the best ceiling fans in the market. This brushed nickel Palermo ceiling fan offers great styling and efficiency, reliable operation that's best suited for the larger rooms in you house.
Pros:
Lifetime Warranty: You won't have problems keeping the fans in proper condition in the long run, considering the lifetime warranty which comes with it.
Compact fluorescent bulb included: A 22 Watt bulb which is included with the fan is good enough to light up an entire room and is also a money saver to boot.
Looks great: This fan is very stylish and will never look out of place in most homes.
Good air distribution: All Energy Star rated ceiling fans really do well when it comes to air distribution.
Remote control: Comes with a good remote control offering a range of functionalities.
Cons:
Installation quite hard: Too many screws without proper instructions which make installation quite a pain.
Light is a little harsh: The light isn't something which you would leave on before you go to bed. A ceiling fan is usually right above your bed, and the light can be a tad irritating.
The Hunter Palermo is a large ceiling fan that produces a good air flow and distribution. The remote control makes using this fan very comfortable.
Hunter Sonic Ceiling Fan – 50-Inch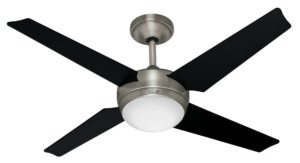 The Sonic Ceiling Fan comes with three speed options. Hunter products offer a select range of ceiling fans which carry the Energy Star Seal of efficiency, and this fan is one of them. Specific Hunter fan models equipped with highly efficient compact fluorescent bulbs for maximum energy saving.
Pros:
Great price: The Sonic Ceiling fan is a great fan to get at this price.
Solid design: The design gives you a feeling for solidness and it is quite a powerful fan.
Cons:
Controls aren't good: The light cannot be controlled with the remote.
Weak remote: You literally have to stand under the fan to get the remote to work.
Poor installation instructions: Setting up the fan takes a lot more effort than one would think.
Just a bit smaller diameter than the Hunter Palermo, this Hunter Sonic ceiling fan still produces a great air flow. The budget-friendly price and good design make up for the not that easy to use remote control.
Monte Carlo Cyclone 60-Inch 5-Blade Outdoor Ceiling Fan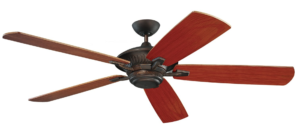 The Monte Carlo Cyclone is basically an outdoor fan which is built tough and is looks good. This fan comes with an Old Chicago Finish with five big 60-Inch and is Energy Star Qualified and Wet Rated too. With an extra heavy duty 212-by-25-mm Motor and 13-Degree blade pitch, this fan is one of the best out there.
Pros:
Simple functionality:  The fan is essentially very simple to use and the instructions are clear cut.
Very attractive: It's a good looking fan with a Victorian look about it.
Cons:
Fitting it onto a ceiling will take some forethought: The fan's 60 inch blades take up quite some space and installing other accessories on your ceiling can be difficult with one of these already up there.
Monte Carlo is a high quality ceiling fans brand and with the Cyclone they make that true again. This 60 inch wide, 5 blades outdoor ceiling fan is perfect for your patio, deck or other outside area that you need a nice comfortable breeze.
Before You Buy
The Energy Star ceiling fans are a must buy for both people on a low budget and those who are conscious about the environment. They offer good movement of air and hardly disappoint when it comes to saving electricity. Plus given the range of designs and accessories they come with, they can easily be considered the best deals out there.