Contemporary ceiling fans are popular nowadays. Instead of ugly fans that are bulky, old-fashioned and only made of laminated wood, there are many other beautifully crafted options to consider. Fans belonging to the contemporary designs are made out of good material that will look great in a home with a sleek and contemporary décor. Such contemporary ceiling fans are characterized by offering sleek modern lines.
Modern style means a dismissal of the intricate trappings of earlier design approaches like Gothic, Renaissance, Victorian, and other traditional designed ceiling fans. Majority of the elements that comprise modern design feature streamlined shapes without the addition of superfluous detail. This particular design method has reached various aspects like fine art, architecture and even everyday fixtures like ceiling fans.
Modern ceiling fans perfectly complement a living space with up-to-date design. It is an accent that will further raise your living space's style quotient because of the model's sleek lines, glossy finish and advantageous features.
Contemporary Ceiling Fans Benefits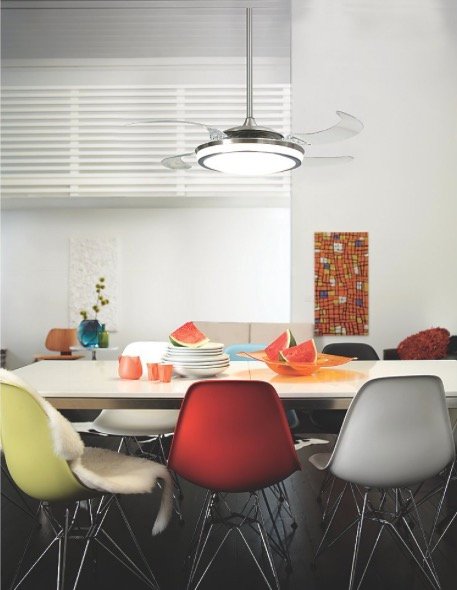 A model of this design style seem to move about because of its aerodynamic appearance. It suits a home with a tasteful, minimalist approach on interior design. However, the modern ceiling fan has more to offer apart from its looks; these devices are highly functional and will not only serve as an accent or as a statement, but it serves as an effective source of ventilation too.
The lack of excessive trimmings minimizes drag that's why these models are aerodynamic as a whole. They will fit not only living rooms or entertainment rooms, but bedrooms, kitchens and dining rooms as well. The device can supply a good amount of comforting breeze in your home on humid or hot days and with a little tweaking on its settings, will also provide warm air in fall and winter.
Modern fan models sets the ambiance of your home's interiors once you get inside. It comes in a broad range of styles and finishes so it will match well with your home décor. Models usually come in blade finishes like bronze, chrome, nickel, steel and a lot more.
You won't have to settle for anything boring because of the wide selection of models — ceiling fan brands have been consistent in manufacturing fans that will easily instantly fit right in whether you want it installed in your bedroom, living room or the bathroom.
Contemporary Ceiling Fans with Lights
The model also comes with lights like other standard ceiling fans. Kill two birds with one stone by using the use of a ceiling fan with lights. The lights from these devices are usually awash in soft tones to provide an intimate setting that's perfect for parties. It's also a good model to install in a bedroom because of the muted illumination it provides.
Models with lights comes in a variety of finishes as well, and they range from black, bronze, cream, nickel to silver. In addition, several models also come with a light dimmer so users can have total control over the brightness of the lights.
Factors to Consider While Looking for Contemporary Ceiling Fans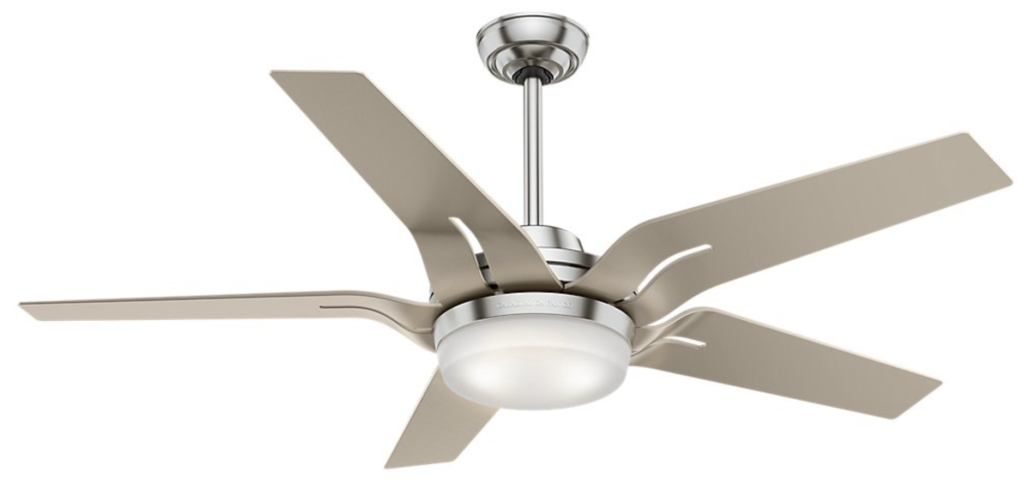 Apart from its appearance, homeowners should also mull over certain factors before making a purchase. To maximize the benefits of the device, you must first base the model on the size of the room you are planning to install the device in. Rooms that measure up to 100 square feet will benefit from a smaller ceiling fan model with a fan size that ranges from 29 to 36 inches.
A smaller ceiling fan model that measures 38 to 42 inches will prove advantageous to a room with a dimension of up to 101-144 square feet. Bigger rooms from 226 to 400 square feet will be ventilated properly by models measuring 48 to 54 inches while rooms with a dimension of more than 400 square feet will greatly benefit from large ceiling fans sized 56 top 60 inches.
Mounting is also important, and homeowners should decide whether they need a flush mounted ceiling fan or downrod mounted ceiling fan. A room with a ceiling that measures under 8 feet generally needs a model with flush mounting while rooms above 8 feet require a model with downrod.
Additional features like remote controls and wall controls provide convenience for speedy comfort. The model must include a reverse rotation setting so it can accommodate all seasons of the year; anti-clockwise in summer and clockwise in winter. A device with at least 3 settings is also a good buy.

If you want some savings on your electricity bill, consider an energy-efficient ceiling fan; an ideal model consumes energy at 60 watts or even lower. You can also look for a model with the Energy Star seal since these devices undergo strict standards set by the U.S. Environmental Protection Agency (EPA). If you want a model with lights that are energy-efficient, you should look for one with LED lights.
A superior model is built for long-standing usage. Effective models often come with warranties to guarantee its continuous operations. Preferably, a device's motor must be protected by a lifetime warranty, however several models come with warranties that can only cover for up to 15 years max.
Bring in a modern-day ceiling fan into your digs to truly appreciate the impression that this particular style can evoke.
Reasons for buying a Contemporary ceiling fan
These fans are designed to add value to your home without compromising on looks.
You can find contemporary ceiling fans suiting to almost every budget.
Most contemporary ceiling fans offer great air circulation as they incorporate modern technologies.
These fans are usually Energy Star rated which is as efficient as ceiling fans can get.
Contemporary ceiling fans are the rage nowadays and do really well in the market in terms of looks and functionality.
Best Three Contemporary Ceiling Fans
Hunter Palermo 52-Inch Energy Star Brushed Nickel Ceiling Fan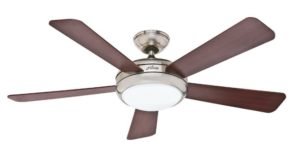 Hunter makes some of the best ceiling fans currently available in the market. This brushed nickel Palermo ceiling fan offers great styling and efficient, reliable operation that's best suited for the larger rooms at you house.
Pros:
Lifetime Warranty: You won't have problems keeping the fans in proper condition in the long run, considering the lifetime warranty which comes with this fan.
Compact fluorescent bulb included: An out and out money saver, the lights that come with this fan are the best as far as saving energy is concerned. As these are 22 Watt, they never really consume a lot of energy.
Looks great: The fan is very stylish and never looks out of place in most homes.
Good air distribution: Being an Energy Star rated ceiling fan, it really does well when it comes to air distribution.
Remote control: The remote control that comes with this fan offers a wide range of options for you to play with.
Cons:
Light is a tad harsh: The light isn't something which you would leave on before you go to bed. A ceiling fan is usually right above your bed, and the light can be a bit irritating if you like having them on while sleeping.
Installation Horror: There are WAY too many screws without the proper instructions; in fact you are better of solving the Rubik's Cube than figuring out how to put this fan together!

Hunter Fans 48 In. Fanaway Brushed Chrome Ceiling Fan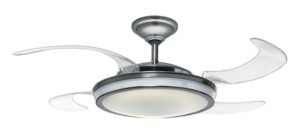 The Fanaway is an advanced ceiling fan with unique aesthetics and energy efficient design. Switched off, the traditionally intrusive fan blades automatically retract and conceal, and visually the unit transforms into a slim, modern light pendant.
Pros:
Looks brilliant: Dare I say that this fan is as good a ceiling fan as you have ever seen! It is indeed a class unto itself and will easily be a conversation piece in any of those parties.
Very Quiet: Looks great and works cool and noiselessly.
Energy efficient: The fan is also pretty energy efficient.
Very practical design: The retracting blades that this fan comes with automatically create space when not running. While you probable cannot attach any more than what you could (the fan's wingspan is after all its wingspan) the aura of space that it creates is still fun to have.
Cons:
Expensive: You can't get a fan this cool at cheap prices. Be ready to shell out in the higher 100's in case it caught your fancy.

Hunter Westbury 4-Light 54-Inch 5 Black/Light Cherry Blades Ceiling Fan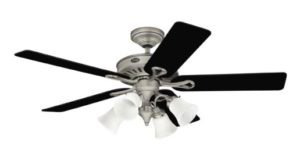 This fan is ideal for usage round the year. This particular fan will fit most décors and reduce cooling costs, function quietly, and last a lifetime. Candelabra bulbs with swirled marble glass covers give this fan rich traditional style, while the included remote control provides modern convenience.
Pros:
Really quiet:  The fan is whisper-quiet; in fact there are some air conditioners which make more noise than this.
Large areas are no problem: No matter how big the space is, this fan easily delivers air to every corner with is huge blades and a very powerful motor.
Looks good: A simple, classic design which will fit into any contemporary modern setting.
Cons:
Expensive: Given its great features, and powerful motor, the fan is steep priced.
Before You Buy
Contemporary ceiling fans look great in homes which are designed around the philosophy of minimalism and will look wonderful with a style of décor that is sophisticated as well. These fans will add to the way your home looks while providing great functionality power and cost cutting at the same time.