Technology is a wonderful thing. It can be a man or woman's best friend. Especially for someone who is in bed with a headache, laid up with a broken leg, sprained a big toe or … ok just too lazy to get up off the comfy couch.
Remote controls are amazing items. It is all the rage for just about every appliance imaginable and now it has reached it upmost high point: a remote control ceiling fan.
Ceiling fans with remote controlled system are quite in demand today. Bundled with remote control system, these fans are not just easy to operate but also help in easy adjustments in the fan's operation. One of the display features of such fans are their animated fan and light combination.
Each particular brand of ceiling fan you purchase has remotes that are designed to work specifically with them. Nearly all have 2 to 4 speeds, ability to reverse blade direction, possess dimmer capability for those fans with lights and a few have their own stand with it.
Ceiling fans will do your home plenty of good. It helps in circulating cool air in hot seasons and also provide warm air in the colder seasons. It can be controlled by three kinds of methods; by means of a pull cord that hangs from the motor to switch it on/off or to change speeds, by means of a wall controller and with the use of remote controls.
For easier access, a unit with a remote control will help you regulate the unit's speed or turn it off without standing up or reaching for its pull cord. This is why many consumers have chosen units complete with the device because it is more convenient.
Remote Control Ceiling Fan Basics
When you buy a unit, the ceiling fan model will be equipped with just one of those control methods mentioned earlier. However, some models do come with more than one options, but with additional costs. Not every fan available in the market can be controlled with a remote device but majority of units can pair up with one without any issues.
A model will either have a wall mount control or gets switched on and off with a pull cord and the entire assembly will also include a remote device as convenient addition to the whole package.
A model's remote device will include its speed settings, the On/Off option for the lighting and reverse options. As discussed before, the unit is meant for easy access so this is one big advantage of the remote control. Also, for example you live in a house with high ceilings, the remote device is the only practical method that you can rely on.
In addition, if your ceiling fan includes lights, having a control device that's within your reach is a good thing. You can also steer clear of having a fourth wire installed from the wall switch that's connected to the fan. This fourth wire is responsible for facilitating the lights to be switched on or powered off from the wall of the area.
You can also have the freedom to manage a couple of fans simultaneously with just one remote device, which is another advantage especially if an area in your home has one or more ceiling fans installed.
Installing a Remote Control for a Ceiling Fan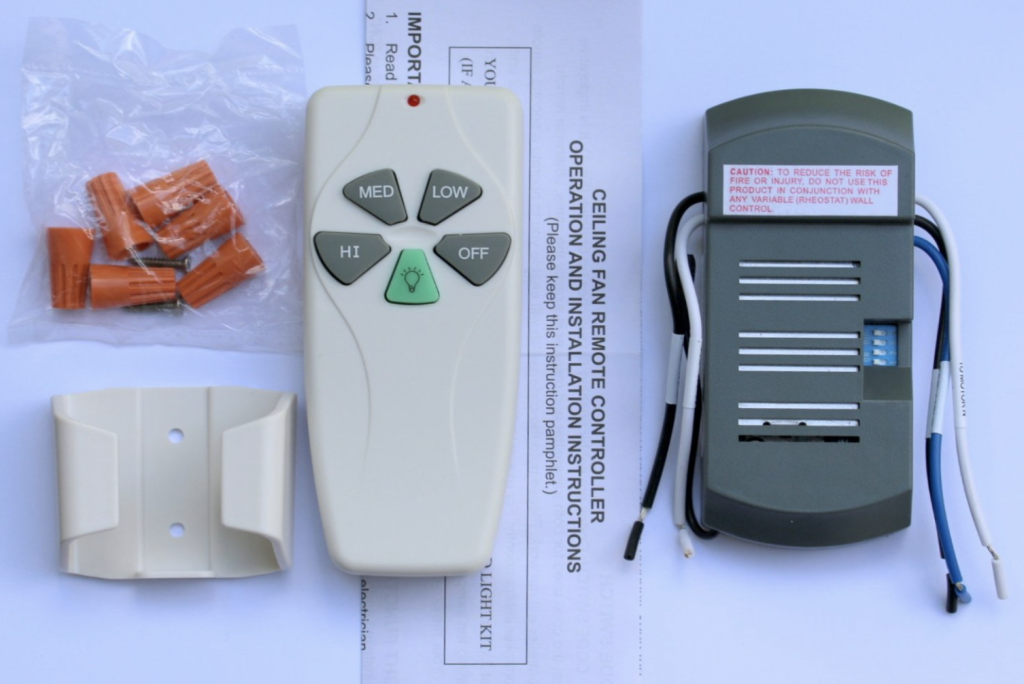 If you have already installed a ceiling fan, then you have to perform some additional steps in order to make a remote device that is appropriate so the model will work suitably. A hand-held device's receiver requires mounting within the fan itself. The procedure for this requires that a component of the fan must be disassembled and then reassembled once more following the inclusion of the receiver.
Majority of receivers can be included to a fan's accessible wiring and this will be placed within its canopy. Installing it can be done without the assistance of a professional, but one does have to mind plenty of safety measures and have a bit of patience. Each and every remote is different from the other and they will come with individual installation processes.
This is what a basic remote control installation procedure entails:
First, you have to switch the power off on the area that has the ceiling fan. To make sure that that the power is indeed off, you can use a voltage sniffer for added safety.
Examine the fit of the receiver first prior to wiring it inside the fan.
Link the hot and neutral wires to the receiver's AC wires. Attach the leftover three wires to the fan and its lights (if they include lights).
Keep in mind to change the frequency on the remote's transmitter if you have neighbors living nearby. This will prevent you from handling or controlling your neighbor's fan or other devices as well.
Factory settings for remote freqs are at times similar with other appliances as well, that is why making a distinctive frequency code is a must. They can easily pick up the frequency and they can get turned on or off too if you happen to work on your fan. It will be the same scenario on your neighbor's appliances if they happen to own similar devices as yours, too.
Remote control ceiling fans are not for everybody though. Owning one will rely on your preference, the structure of your home, your living situations and your budget constraints.
Fans with remotes usually cost around fifty or a hundred dollars more. If you are living with a pet or have children around, the device can be prone to damage or it can get lost. However, some remotes usually come with its own cradle so you can place it in there after using.
In addition, remote devices need batteries to operate—thus if you do not have any extras on hand, you won't be able to use the device. It will also stop working eventually and need replacements.
Maintenance and Care
Cleaning the remote is easy as pie. It's simple to keep the device away from the unwanted microorganisms. If the device has its own cradle, make sure that you place it in the cradle after using every time.
To maintain its spotlessness, moisten a clean piece of cloth with ordinary rubbing alcohol, taking care not to soak it with the alcohol. Rub the device's buttons and its entire frame with the cloth. If you want to clean the areas around the buttons thoroughly, you can also use cotton swabs on it.
Just make sure not to bump or budge the buttons while cleaning the device. If not in use, make an effort to keep the device protected so dust and other foreign matter won't get inside it.
Losing the device can happen and it can be a pain shopping for a new one but the solution for this is pretty simple. You can either call the manufacturer and ask where you can purchase the same model or you can purchase a universal remote for ceiling fans.
Great Features
The remotes that come with ceiling fans offer a varied assortment of styles and speeds. Some even attempt to draw your attention to far away places by engraving a palm tree on it or tempt your décor senses with cherry wood graining. Still others offer futuristic designs and come with a plate holder.  A lot of controls are equipped with dimmers for ceiling fans that come with lights.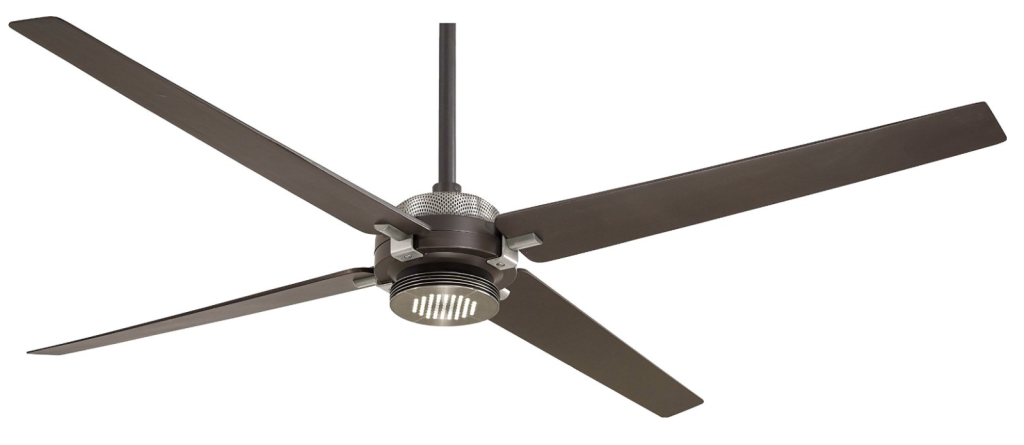 Setting aside the basic on and off as well as the three speed availability on a ceiling fan, it offers these as well:
Full range light dimmer
Automatic on and off
An automatic temperature speed control
Exit room timer. Fan and light timers are separate.
50 foot operation capability
No special wiring.
If you ever lose any of your ceiling fan's remotes, there is a "generic" one out there that can work with most of the well-know brands of fans. The universal of all universals! The options on these devices are unbelievable.
Best Three Remote Controlled Fans
There is a wide range of remote controlled ceiling fans such as vintage, chandelier-style and wooden fans to go with the theme of the room. Also the remote control systems eradicate the wires from your room and thus add appeal to the interior of the room. Some of the popular ceiling fans include "Hunter Sontera", "Hunter Rainier" and "Hunter Zoe".  Elegantly designed ceiling fans are fast taking over.
Hunter Sontera Ceiling Fan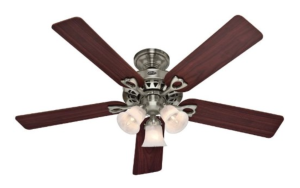 Integrated with light and with full-function remote control, the Hunter Sontera has a unique style and design.
This ceiling fan has some interesting features such as five reversible switchblades and a high performance motor. The blades are size 52 inches and has 180 watt three light fixtures integrated in it.
For extra convenience, the remote control is for fan operations as well as that of the light bulb. The Hunter Sontera comes with a limited life time warranty. Its elegant style compliments the décor of the room.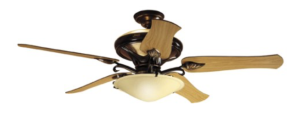 Hunter Rainier is specially designed for large and spacious rooms. It is artistically designed in a rustic manner. It celebrates the work of the craftsman.
Made with the natural wood, it has hand applied finishing. Its five honey darked walnut or oak fan blades are of size 60 inches each to circulate air comfortably even in grand rooms and have amber oil-rubbed bronze body.
It has whisper quiet operation and shows consistency in quality of power and air movement. It comes with fully function remote control. It is one of the finest ones available in the market today, backed with a lifetime warranty.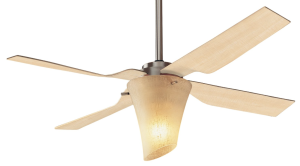 Hunter Zoe is an exception in design as it adds a funky twist to the décor. Fresh and fun are the two words that define a Zoe fan. Zoe exudes beauty and comfort.
This ceiling fan has a light kit and also includes a remote control system. Offers choice in lighting configuration such as undiluted Danish modern or textured linen glass etc. The elegantly designed this fan has blonde beech finishing.
A 100 Watt candelabra bulb is integrated in the lightning fixture and the ceiling fan is fitted with four blades of size 52 inches. The angular glass fixtures offset by twisted blades with square edges sets this fan apart.
The glass is amber ripped thus adding a touch to its already elegant design. It has high output motor and is backed with lifetime motor limited warranty. To add a unique appeal and finishing touch to a room Zoe is the best choice.
Before You Buy
Now that you know ceiling fans come with both wall mounted remotes and hand held remotes and regardless of whether you have cathedral ceilings or not, you now have no hurdles to overcome in order for you to become an energy conscious, beautiful person.