Commercial ceiling fans are supposed to provide one with optimal air movement in large rooms or areas, usually in commercial or industrial buildings or offices which need it. They circulate air throughout the entire office in a very efficient manner and remove the need for other more expensive methods which in turn saves a lot of money. These fans usually put functionality over form and are not all that expensive either.
When the summers become too hot or the winters go mild, commercial owners have two choices to keep their establishments cool: pay for more air conditioning systems or explore other solutions.
But when it comes to offering the best and perhaps the most low-cost cooling solutions, investing on commercial ceiling fans would be your best option. That is, ceiling fans are not only popular cooling equipment; it's also an effective solution for any hothouse woes of commercial and industrial buildings.
Commercial vs Residential Ceiling Fans
Perhaps what makes ceiling fans of the commercial kind different from the typical ceiling fan types you find on most homes is their quality. Residential ceiling fans are not fit to be used in commercial areas for cooling because they simply do not have the necessary motor to carry enough wind power.
Also, commercial fans are better when it comes to premium material construction. They're also able to carry more room load to cool compared to their residential counterpart thanks to their blade design.
Next to a more powerful motor, commercial ceiling fans are better with doing specific air motions because of the unique designs of their blades. That is, most commercial fans have their blades bent, which are exactly the reason why they're excellent at air circulation even with a large commercial place with high roofs.
Below are the rundown of the most popular blade design of commercial ceiling fans and how each one is used.
Curved tip blade – it's a blade design which originated in early 1900s in England. Contrary to popular belief, the curved tip blades do not actually throw a wider beam of airflow unless paired with a powerful motor.
Flat paddle blade – this design is the most traditional design of ceiling fan blades for both residential and commercial ones.
Narrow airplane blade – this type of blade design is relatively narrow and looks much like an airplane's propeller. This type of bladed is best for moving air and allows for a higher RPM but is not suitable for stationary ceiling fans.
Wide contoured blade – this blade design is bent just at the slightest angle and is designed to sweep a greater and wider airflow inside commercial rooms.
Take note though that while blade design plays a great role in air delivery, there are also a number of other factors involved like the blade diameter, blade pitch, motor size, tip speed, number of blades, and the related revolution per minute that the ceiling fan can perform.
Tips On How To Choose a Commercial Ceiling Fan
Before you go through all the other factors of choosing a ceiling fan for your commercial needs, there are two important things that you should always look for no matter what:
premium quality construction
area coverage performance
This is because each ceiling fan model has different features that will distinguish it from the rest; the motor's horsepower, the fan blades, the mounts, the RPMs, and even the pricing and design. But these factors will only matter the most if you choose a commercial ceiling fan that is made of high quality materials and is made for heavy-duty applications.
Ceiling fans built for commercial use are meant to circulate air over open areas and large spaces so ensuring the performance of your chosen ceiling fan with regards to area coverage is another important factor to consider. Without further ado, here are the 11 things you should look for when choosing a commercial ceiling fan.
Choose a ceiling fan that is specifically engineered for industrial and commercial applications.
Look for energy-efficient ceiling fans with probably the best high-powered motor.
In choosing a commercial ceiling fan, make sure to maximize with the most powerful and largest fan available to suit your commercial space.
Choose a blade design that is heavy-duty and aerodynamically contoured to provide your space with maximum air circulation performance. This will also ensure that the blades will not easily warp on high temperatures.
Always ask for the ceiling fan with the highest rated area coverage of your chosen fan model.
Choose a ceiling fan with perfectly balanced blades and motors for a wobble-free fan performance.
Look for the newest U.L requirement – a built-in and self-resetting thermal-overload protection – especially for ceiling fans using solid state for motor speed controls.
Choose a commercial ceiling fan that can work continuously and one that is built to last a long time.
Ensure a whisper quiet and maintenance-free operation by choosing a ceiling fan with greased and permanently sealed bearing.
Instead of choosing ceiling fans without any finish, choose one that has a long-lasting epoxy enamel paint finish for corrosion resistance.
Opt for a ceiling fan, which fit the size requirements of your commercial space.
Lastly, choose a dual purpose ceiling fan that you can use for both warm weather cooling and de-stratification purposes during winter or one that you can use for cooling and removing ceiling condensation.
Reasons for buying an Industrial ceiling fan
They keep in tune with the industrial décor of the office or workplace or a commercial establishment
Help save energy on cooling during summers
Some people also find the minimal look of these fans appealing and like to include them at home
Best Three Commercial Ceiling Fans
Ceiling fans, especially these commercial ceiling fans have become very popular considering the raw power which is offered at a great price. These are some of the top rated fans you can buy:
TPI Industrial Ceiling Fan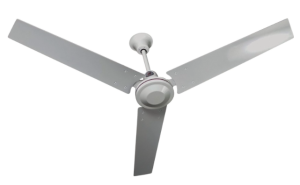 This is the best fan in terms of performance. The TPI offer is more expensive than other offerings, primarily because of some upgrades in features and capabilities of the fan. The TPI heavy duty down draft ceiling fan comes with 60-inch blades powered by a quiet motor of 320 RPM and with 47,000 CFM air delivery. Great for use in areas like workshops and garages.
Pros:
Quiet motor:  It is very quiet for and industrial ceiling fan of this size and power.
Large areas are no problem: No matter how big the space is, this fan easily delivers air to every corner with its huge blades and the very powerful motor.
Good Performer: It is a very capable fan and does work very well under difficult conditions.
Cons:
Expensive: It is an expensive fan primarily because of some upgraded features and capabilities that it offers. However price of such fans are often high as they are not meant for home usage.
Limited warranty: Although most fans nowadays come with lifetime warranties, but this TPI Industrial ceiling fan comes with a thirty year warranty, not really a deal breaker.
Shop owners or garages could be very interested in the TPI ceiling fan. It's powerful but doesn't make much noise.
Craftmade Fans Velocity Commercial Ceiling Fan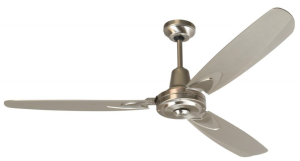 It is a 3 blade 58 inch ceiling fan with a heavy duty motor. It comes with a decent warranty. Dual mounting systems make is a good buy. It does not consume too much electricity either. In short this fan is a good buy for your office and you won't regret purchasing one.
Pros:
Reasonably cheap: It is definitely the most affordable industrial grade ceiling fan available in the market.
Lasts very long: This fan is meant to outlast everything else around it for sure.
Dual mountable: This is a great feature about the fan including J hook and a standard ball hangar as well.
Great value for money: It offers perhaps more value for money than any fan in the market in this segment nowadays.
Wall control: This is a good feature to be included since a lot of commercial fans lack this feature.
Cons:
Not a good looker: You can't expect everything at such low prices; however if you are the type who appreciates power and performance over looks then this fan will definitely catch your fancy.
Although taste is very personal, many consumers don't like the steel-look of the ceiling fan. For a business owner this probably isn't a main concern since it's doing a great job for a very reasonable price!
Royal Pacific 56 inch Industrial Commercial Ceiling Fan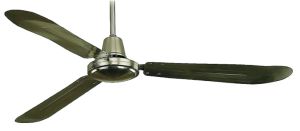 A Royal Pacific Product which is known to make decent fans, this commercial ceiling fan comes with a 10 year warranty and a great price to boot.
Pros:
Very easy to install:  It is one of the easiest fans to install on the market.
Large areas are no problem: No matter how big the space is, this fan easily delivers air to every corner with is huge blades and a very powerful motor.
Cons:
Price: This particular fan can not be called a cheap buy, but it offers good performance and durability.
Tends to shake quite a bit: At high speeds a noticeable wobble was seen with this fan.
Royal Pacific is a well-known ceiling fans brand for industrial purposes. This fan with a large blade span is ideal for commercial premises that need to rely on a high quality ceiling fan.
Before You Buy
These commercial ceiling fans are great when it comes to keeping those large spaces or your office cool during the summer months without shelling out a horrendous amount on electricity. Now there are plenty of good options out there and most people interested in buying these are usually interested in good performance at a great price and the fans that we discussed here deliver exactly that. They are a good alternative to other more expensive methods of cooling and they circulate air really well while saving you a lot of the green stuff on the way.