The recently growing popularity of Arts and Crafts style in home decor has lead ceiling fan manufactures to produce mission style ceiling fans specifically for this application. Mission style and Craftsmade style fans are somewhat synonymous and can actually be classified as Arts and Crafts fans.
A home that is styled and designed with an Arts and Crafts or Mission theme requires furnishings with the same aesthetics. Also called the Craftsman style, the whole scheme is characterized by straightforward, substantial designs and first-rate materials. This is a late 19th and 20th century style with an ageless appeal that can bring a new level of class in your home.
Home fixtures like a ceiling fan with a huge Mission influence are often made from stained or leaded glass, wrought iron, copper and wood in dark colors. We know that the colors we choose for our living space, the shapes, textures and most importantly the home fixtures we purchase all work in conjunction to have an effect on how we feel and how we go about our everyday activities, both consciously and subconsciously.
Therefore, choosing the proper Mission ceiling fan to accessorize our home is crucial.
Mission Ceiling Fans: A Brief Overview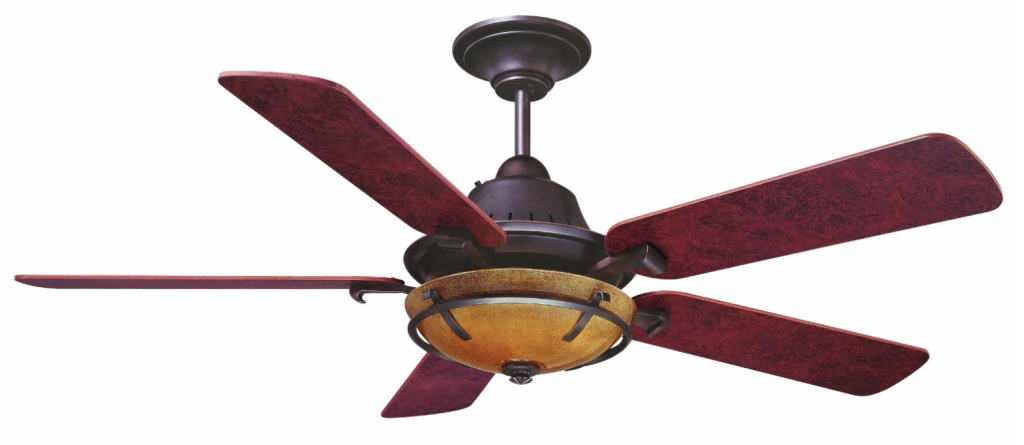 Mission style ceiling fans and other similarly-influenced home fixtures fuse old-fashioned American themes and excellent craftsmanship to provide first-rate ventilation and lighting for luxurious homes ranging from the traditional to the modern. It goes back in the Arts and Crafts movement which gained fame in the 1900s In England, and is also known as American Craftsman and simply Craftsman style.
The movement was known for its simple forms, genuine composition, high-grade materials and limited décor. To this day, it remains to be an authentic favorite of art and fashion-savvy interior designers and home/architecture enthusiasts.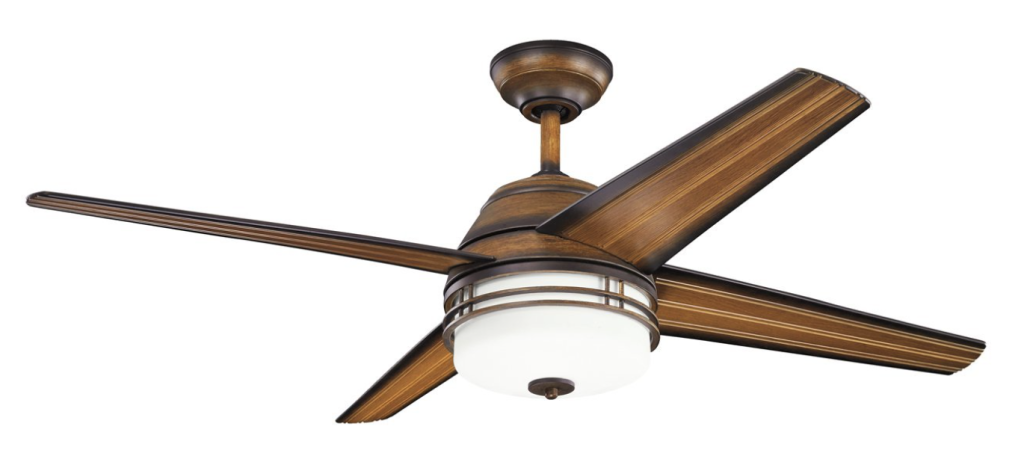 This kind of ceiling fans style and influence are appreciated for its distinctive, handmade qualities and they continue to hold sway over individuals who look for antiquated yet timeless designs. The wood tones and ship-shape lines characterizing its form is a homage to the world's organic elements and it evokes a sense of constancy and serenity that was here before the Industrial Revolution took over.
Today's line of Mission-style ceiling fans employ distinguishing color combinations and modernized air circulation options to honor this particular movement in art. If you want to own this particular fixture, look for new items or reproductions with natural colors and rustic, country-style finishes. The right color combinations and finish will suit your home décor and will stay true to form in terms of genuine design.
To relive and give tribute to this great bygone movement, companies such as Minka Aire and Craftmade have lines specifically dedicated to this style. You can also find more similar fixtures online if you want to plan out your home's interior scheme with a Mission ceiling fan.
Why You Should Consider Mission Ceiling Fans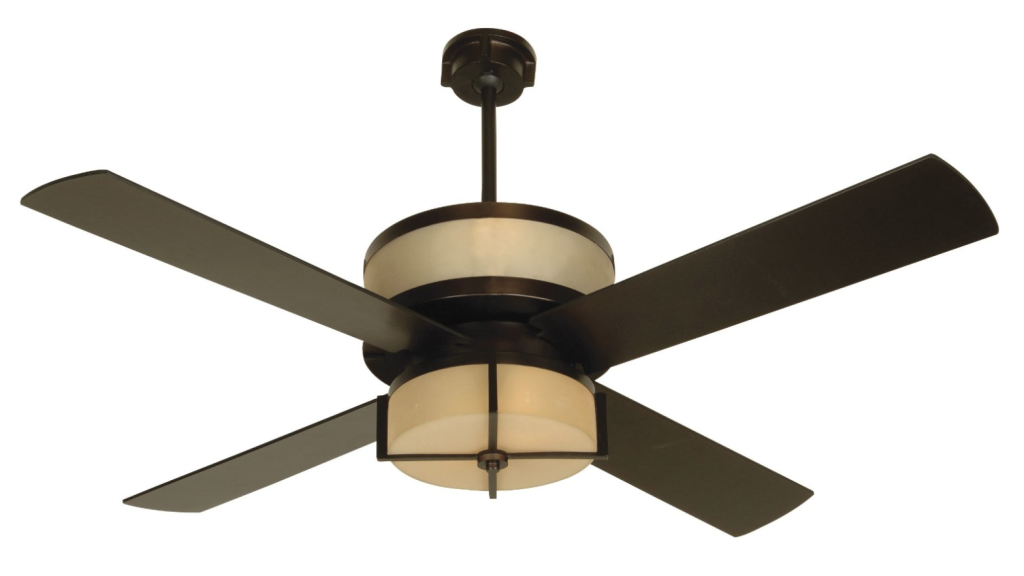 There are plenty of reasons why you have to choose a Mission-style or Craftsman influenced ceiling fan, and it's not just for practical or functional means. Keep your cumbersome stand fans away in your living room or common room and replace them with something you can install on the ceiling. It provides comfort during the hot days, but it also adds an aesthetic impression in your décor.
A lot of people are now replacing standard electric fans with ceiling fans. Sure, these fixtures might seem outdated as compared with much modern and advanced air conditioners, but you can't escape the fact that they are very functional. Manufacturers of this regular home fixture are now enhancing their lines with beneficial and more advanced features to make ceiling fans not only work effectively, but look impressive as well.
There is a great selection of Mission ceiling fans out there and it can be hard choosing one. Mission fans are one of the most eye-catching home fixtures manufactured today, built with high-quality materials and excellent craftsmanship.
A model like Minka Aire's Craftsman will suit most Arts and Crafts inspired homes because of its exquisite design plus powerful blades. Meanwhile, Fanimation's Bayhill is straightforward but exceptionally chic and timeless with its Cairo purple custom wood blades and Art Deco-style blade holders.
If you need something rustic, you can try out Monte Carlo's Strasburg Tuscan Bronze model for its Teastain Mission glass and mahogany veneer blades. Its motor's Tuscan Bronze finish adds stunning accents to an already-striking piece.
Bring the influence of a modern art period in your home with fantastic Mission ceiling fans and evoke the excellent craftsmanship of artists from years past with similarly-themed fixtures. You have to consider this style because it is not only a popular form of art, but it will blend well with your living space's interior design as well.
They are durable and will provide years and years of continuous performance because they are made from a mix of the finest wood and metal materials formed into various motifs and distinctive blades so they will complement any part of your home. Lastly, they don't take up space and they provide a comforting breeze which is always a welcome relief during summer's dog days.
Reasons for buying a Mission ceiling fan:
Great looking fans and add to the overall look and feel of your home.
Growing demand for these crafty fans.
Efficiency of circulation is quite decent.
Great when it comes to basing your room on something. These fans can act as the central piece of a decoration theme.
These contemporary ceiling fans are the rage nowadays and do really well in the market in terms of looks and functionality. Some of the options to look at are.
Best Three Mission Ceiling Fans
Casa Vieja Outdoor 52" Mission Damp Listed Ceiling Fan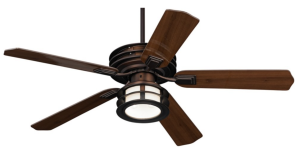 A great look for kitchen or patio lighting. This Mission ceiling fan in dark bronze has five oak finish blades. Dual mounting hanging system allows for it to be hung from a downrod or flush with the ceiling. It is UL rated for damp locations such as the bathroom or outside. Light kit is included and uses two 60 watt bulbs.
Pros:
Long Warranty: You won't have problems keeping the fans in proper condition in the long run, considering there is a 10 year warranty which comes with the fan.
60 watt bulbs included: These bulbs usually serve good enough to light up the entire room with its 60 watts.
Wet rated: This fan is UL damp rated and is certified for outdoor use. A good feature at this price.
Cons:
Plastic: The look and the feel of the fan is rather plastic-like and tends to make you feel as if the price isn't worth what you pay.
Bulbs can be seen: There isn't a bottom on the light so the light bulbs can be seen. Not exactly appealing to the eyes.
Hunter 54″ 1912 Mission Ceiling Fan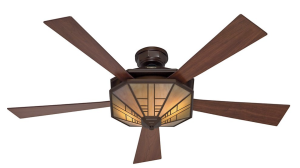 This is a great looking fan which works like it looks, really well. There are five dark cherry or dark walnut switchblades. This Hunter ceiling fan can be installed in 3 ways and has a limited lifetime warranty as well.
Pros:
Looks brilliant: The fan does a great job in circulating air all around your room and is different class when it comes to looks.
Very Quiet: The fan is hands down one of the least noisy fans out there.
Gold glass: The glass covering the light is golden; hence the color is very pleasing in the interior.
Cons:
Inadequate light: The heavy plastic present makes the passage of light quite difficult which leads to wastage of power due to over-consumption.
Big remote control: It is too big to use mounted inside the base which makes that part a waste of money.

Casablanca Mission Ceiling Fan with Inteli-Touch Control, Bronze Patina

This Casablanca fan is a master-piece with its huge 56 inch Signature teak blades which make it look great. The finish is in bronze patina. And Intelli-Touch 6 speeds wall control is included as well. The ceiling needs to be at least 9 feet in height. The motor comes with a lifetime warranty.
Pros:
Really quiet:  The only sound when this fan runs is made by the moving air.
Large areas are no problem: No matter how big the space is, this fan easily delivers air to every corner with is huge blades and a very powerful motor.
Looks good: It is a simple, classic design.
Cons:
Expensive: It is an expensive fan primarily because of some features and capabilities that this particular fan sports.
Height of the ceiling: The ceiling needs to be a minimum of 9 feet in height.
Before You Buy
Such mission ceiling fans bring an extra bit of value to your homes and give that handicraft feel to the room they are installed in, which lends an additional bit of warmth which is always desired and with companies making them affordable as well, there's no reason to not get one. The oriental look and feel that these fans bring with them adds an aura of calmness and serenity in the room they are installed in. Such fans are often fancied by people who are into minimalism and like to decorate their rooms with oak wood furniture.