The bathroom is often the smallest room in the house and one that homeowners can have a difficult time decorating.  With so many expensive and labor-intensive fixtures to buy and install, it isn't surprising that style sometimes takes a back seat to function.  Too many times a very simple design solution is overlooked. These fans are an inexpensive way to add a big splash of style to an otherwise bland bathroom.
Integrating a ceiling fan into a bathroom remodel, or new construction, is quite easy. Installation is usually no more difficult than what a standard light fixture would entail; and, the whole process can be completed in under an hour.
For those who are still intimidated by the thought of putting up a fan, quick-install models are also available.  These fans are ready to go right out of the box, making it easy for nearly anyone to install.
Why You Need a Bathroom Ceiling Fan
You might not be aware of it but you might need a bathroom ceiling fan in your home more than you know. For most homes, the presence of humid air is not just uncomfortable, it can be the reason why your house because damaged, too.
Humidity causes your house's paint to peel, your wooden floors and doors to warp, and is one of the biggest reasons why you might find mildew and mold growth in some moist places which can also damage your house's wood framing and drywall. These problems are most commonly found inside the bathroom and it's because the sink, the toilet, the bathtub, and the shower all work together to release moisture into the air.
Without proper ventilation, this moisture becomes the root cause of humidity. So how do you solve a common problem like this? You try to improve air movement, remove the presence of steam and humidity, and bring in fresh air inside the bathroom to also release foul odors. In short, you try to improve the overall quality of air circulating around your home. How? Using bathroom ceiling fans.
Choosing The Best Bathroom Ceiling Fan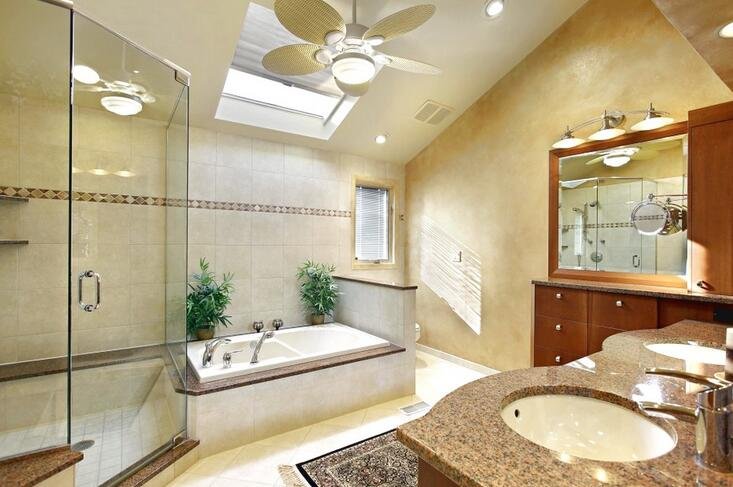 Just like any other appliances, bathroom ventilation fans or ceiling fans need careful consideration. You have to consider your bathroom's size, the vent or fan method that you prefer to use, and other bonus features that you might want for your fan system. Of course the bathroom ceiling fan needs to be damp UL rated for safety reasons.
As a little workhorse, your chosen bathroom ceiling fan should be efficient at removing not just foul odors but also excess moisture and mold spores that can sometimes cause certain health problems. On some cases, building codes require homes to have exhaust fans in the bathroom especially if no operable window is present.
Unlike before, there are plenty of trendier and smarter bathroom fans available on the market thanks to newer technologies. Today, you can choose a bathroom fan operates quietly and is more efficient compared to older models. There are also available models that allow heat-exchanger ventilation or the more modern motion-activated lights.
Things you should look for in your bathroom fans
When you choose a ventilation fan for your bathroom, you should choose one that is adequate enough to meet your needs. The five important factors you should look for a bathroom ceiling fan are:
Air Flow Capacity
The air flow capacity of a bathroom ventilation fan depends on the kind of bathroom fan that you choose. However, the standard is that every square foot of floor space should be ventilated with 1 cubic feet per minute or cfm air flow capacity. Aside from the floor space, you should also add another 50 cfm if you have a toilet or shower and 100 cfm for the whirlpool.
Energy Efficiency
Just like with lighting options, bathroom ceiling fans should be energy efficient, too. Looking for the Energy Star rating ensures that you use 60 percent less energy compared to standard fans.
Another good factor for you to know whether a fan is energy efficient or not is through its noise level. The quieter the motor is, the more energy efficient it will be. Another way to make the fan energy efficient and not damaging is to connect the fan to vent ducts to efficiently channel the exhaust directly outside your home.
Noise Level
It can be very disturbing when you have a bathroom fan that operates noisily inside the bathroom. But how do you know that your chosen ventilation fan works quietly? Then you should look at the sones scale, which is used to measure the degree of the loudness of noise produced by the ceiling fans.
Look for fans with a score of 0.5 to 1.2 sones because it means that these fans operate exceptionally quiet or those with scores up to 2.0 sones as they're also fairly quiet in operation. A rating of 4.0 sones on bathroom ceiling fans indicates noisy operation.
Smart Technologies
Unlike older models, bathroom ceiling fans nowadays are now equipped with smart technology options. That is, you can choose not to use a switch in some cases and just use a motion sensor to activate the fan whenever someone enters and uses the bathroom.
In some cases, the same sensor can be used to activate the overhead lighting that is also incorporated with the fan. There are models with humidity sensors that automatically switch on when the level of humidity detected becomes high. You can also check other models equipped with night light or a built-in heater.
Choosing The Best Kind Of Ceiling Fan For Your Bathroom
While there are several types bathroom ceiling fans that you can pick from, there are four basic mount types that you can choose to go with your bathroom.
Ceiling mounted
This type of the bathroom fans are the most popular since they're installed in the ceiling. As it is, they expel the air upwards and can go through the roof, an external vent, or directly outside.
This kind of bathroom ventilation are mounted in between ducts and is a better choice if you don't have enough space or clearance for a ceiling mounted ventilation fan.
Just like with ceiling mounted fans, the wall mounted kind of bathroom ventilation fans are directly installed in the wall so they're also expelled directly outside. It's the perfect mounting choice if you don't want to deal with any more ductwork.
Bathroom fans of this type can become a combination of a ceiling or a wall-mounted fan or an inline and a ceiling mounted. They also have added features like a heat-fan combination, fan-light combination, or a heat-fan-light combination.
Design & Decor
When it comes to working the fan into your décor plan, simply choose a fan with a housing and blades that compliment your color scheme, other fixtures, or accent pieces. For example, choosing a fan with blades that match the color of your accent tiles will bring more attention to both elements.
If your bathroom includes specialty finished fixtures, such as brushed copper or antiqued bronze, adding a fan that incorporates the same finish will give your room a polished look.
For those who love to keep up with the latest decorating trends, a ceiling fan is a wise investment.  Since the blades can be easily replaced, changing the look of the fan will not cost much.  So, decorating dollars can be spent on updating other accessories like towels, candles, and organizers.
Another option for updating the look of the fan is to apply blade covers. Blade covers are easy to install and run the gambit from ultra-modern to exotic.
Top Three Bathroom Fans
Before one goes to buying a bathroom ceiling fan right away, some things must be taken into account first.  In buying a bathroom ceiling fan, it is better to choose a 5-blade ceiling fan, as most bathroom fans are.  A 5-blade bathroom ceiling fan provides the appropriate flow of air for such a space.  It is also wise to choose bathroom ceiling fans with adjustable speeds for easy control of air circulation.
Casablanca Bathroom Ceiling Fan

This model offers more than 300 distinctive styles to choose from.
Offers two unique motors; Casablanca Direct Drive Motor and Casablanca XLP-2000 Motor.
Casablanca's motors are noted to be the quietest and coolest running within the industry.
Having a high cost seems to be the one disadvantage of Casablanca; however this can be overlooked with the model being of superior quality.
Hampton Bay Bathroom Ceiling Fan

Features energy-saving features.
The PowerPlus motor used in this fan model is built to last a lifetime.
Free from wobble and noise because of its precision-balanced blades.
Another option for updating the look of the fan is to apply blade covers. Blade covers are easy to install and run the gambit from ultra-modern to exotic. There are numerous different types of covers that range from tropical, brushed nickel and craftmade.
Hunter Bathroom Fan With Lights

It enables rotation both ways – clockwise and counter-clockwise direction.
This model is economical and has power-saving feature.
It is integrated with high performance motor enabling quiet motor.
It is easy to install.
Before You Buy
Bathroom fans are a simple, inexpensive way to add a beautiful focal point without breaking the bank.  There are a lot of fan models in the market that promises high quality products however there are only a few that can actually provide it and you have to make sure that they are the ones that should be included in your options.
For those who are still hesitant to add a fan to their decorating budget, don't overlook the fact that a ceiling fan in the bath can aid in heating and cooling and even prevent mold and mildew, making them a smart design choice.