Picking a ceiling fan can either improve or ruin the overall look of your living space. Purchasing a particular unit more often than not puts your distinctive sense of style front and center, whether you are hunting for one that will serve as a finishing touch to your room's makeover or hunting for a unit that will highlight its décor.
If you love the beach and are into the whole island paradise setting, you will love a room with a nautical or tropical theme. Thankfully, there is a wide range of indoor and outdoor ceiling fans today to suit such an interior design scheme. The most popular among the lot are palm ceiling fans, which you can get at just about any manufacturer of overhead ventilation fixtures.
Palm Ceiling Fans: A Brief Overview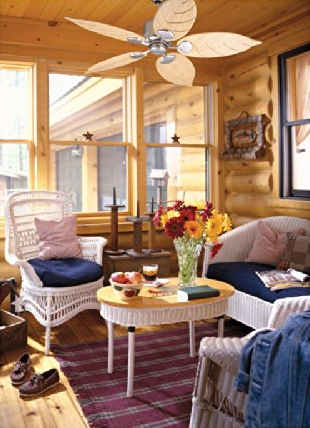 A lot of palm ceiling or tropical-styled fans include blades which are manufactured from wicker, carved wood material, banana leaves or palm fronds. Several models are made from plastic while some are built from pressed wood. Because of the blades' unconventional size (they are bigger than most standard ceiling fan blades), it requires a stronger motor with a higher blade pitch so it can function in a precise, effective fashion.
So if you are looking for a palm unit, make sure that it has formidable motors. You have to purchase one that has a powerful motor so it can circulate air with those large blades. Nevertheless, also keep in mind that majority of this kind of unit were not built to shift and circulate so much air whatsoever.
Palm ceiling fans have delicate blades; they can be flimsy so they must be handled with care. Because it is not resistant to moisture and wet weather, this kind of unit is only suited for use indoors. In addition, these fixtures can pick up forms of dirt like mold and mildew easier than artificial palm blades designed from pressed wood or plastic materials.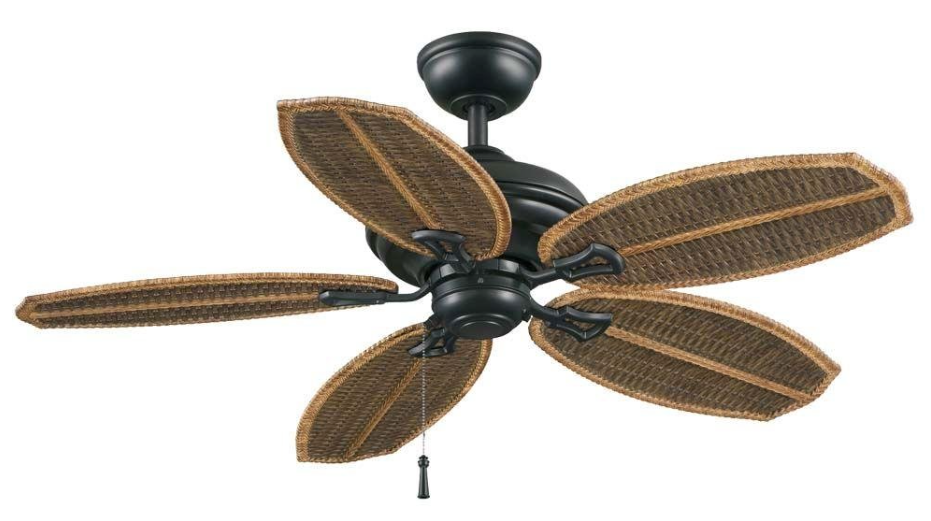 If you want to mount palm blades on your fan, it is recommended that you install a total of 4 or 5 blades and they must be spaced evenly. If not, it will provide fewer air circulation and you might have to splurge more to operate a fixture that is not performing properly.
In addition, palm blades augment the drag on the motor of the fan. Before buying these parts, keep in mind that these things must be mounted on a unit that's purposely built to bear the additional load.
This kind of fixture can add tons of beauty and form in a room, but they need to be taken care of and handled properly in order to last and provide longer operations.
Why You Should Consider Palm Ceiling Fans
There are so many styles that you can choose from nowadays that settling on a plain, lackluster one is a bad investment. But every model of this style can differ. Each and every unit has its own allure and features that you have to look for and inspect.
You should consider units in this style because its blades do not gather dust down the length of its edges. They also do not accumulate static electricity since they are made from organic, untreated fiber. In other words, not much maintenance is needed for this kind of unit as compared with fixtures made from plastic or finished wood materials.
These units also give your living space excellent statement. It will make your room's interiors give off a tropical paradise, beachy vibe reminiscent of swanky beach resorts and surf movies. Unlike a severe metal ceiling fan, the palm blades look attractive and willowy rotating up there.
Palm blades are usually made in 18-inch and 22-inch measurements with an overall fan diameter of around 48-55 inches, which is considered a sufficient size for moving air around the room. They also come in a broad range of finishes and colors so you will be able to decide on a unit that perfectly matches your room's interiors.
One of the most popular models of this style is Minka Aire's Gauguin unit. It can add tons of flair and sophistication in your living space. It includes 4 palm leaf-inspired blades and sports a sleek modern appearance by way of the tropics. This is considered as one of the best outdoor ceiling fans out there since it is UL listed for use on damp locations and has a 14-degree blade pitch with a 52-inch blade thus it is worth a look.
Other excellent models include the Fanimation Islander Brass Palm model and the Hunter Bayview Provencal. The former features an energy-efficient antique brass motor and features 22-inch wide natural palm frond blades. The latter meanwhile, mimics the timeless design of palm fronds and the blades' shape and angle can circulate more air as compared with other like models because of its larger blade and superior angle. Make sure you service your ceiling fan in order to keep it in the best condition.
High-quality and good-looking fixtures with this style are retailed in almost every home décor showroom around the country. They are also available online if you cannot find the nearest dealer in your area.
Reasons for buying a Palm ceiling fan:
These are some of the most well designed fans around and bring a tropical feel to your home.
Palm ceiling fans add a lot more character to your home and changes your décor is a big way, especially since these fans are very noticeable.
These fans are expensive but give you bragging rights of sorts.
Best Three Palm Ceiling Fans
The palm ceiling fans have become extremely popular because of their looks. While there are quite a few designs to choose from here are some of the top rated fans you can buy:
56″ Island Breeze II Palm Ceiling Fan
This Palm Breeze combines nature's design with modern engineering for an incredible addition to your home. Strengthened, hand-woven palm frond blades rotate beautifully on brackets that emphasize the palm blades. This fan is available in Antique Brass, Antique Bronze, Satin Steel, Pure White, or Weathered Brick designs. The palm blades are all available in Natural Finish and the natural material woven blades come in Natural, Cherry, or Dark stained finishes.
Easy maintenance for the motor: This is surprisingly a very easy fan to maintain as the covers can be opened quickly for routine maintenance.
Adapts to light kits really well: This is definitely an added advantage over a lot of other fans out there. Many of them are compliant with light kits made by their parent company, however with this fan you can install most of the standard light kits out there.
Good plating on surfaces: This is basically a maintenance thing and means that the fan will last really long.
Stunning design: The design is indeed very beautiful and is really something you could look at for a long, long time.

58″ 400 Series Raindance Ceiling Fan
The Arbor Blade ceiling fans and can be used indoors as well as outdoors. The blades are made of a non-warp foam injected material which looks so much like wood that it is very difficult to tell the difference. The main housing is galvanized steel with a paint that helps prevent corrosion and all of the hardware is pure stainless steel. This fan is available in Antique Bronze, Black, Brushed Steel, Pure White, Weathered Brick, White (off-white), and Wine.  The blades are available in Distressed Antique White, Maple, and Cherry.
Light kit adaptable: Again a great advantage to have.
Wet location approved: It is UL listed for wet locations which means it can be used where direct water will contact the fan.
Non warp blades: That means that your will not have problems dealing with problematic blades.

42″ Ceiling Fan Coastal Bay Ceiling Fan
This 42 inch Bombay model offers a pretty tropical design for a smaller wet location fan with powerful ceiling fan lights. This 42″ ceiling fan is available in Antique Bronze, Weathered Brick, or Pure White. It has ABS blades. It comes with a ball hanging mount for vaulted or flat ceilings.
Pros:
Wet location approved:  It is UL listed for wet locations which means it can be used where direct water might have contact with the fan.
Hidden blade screws: This adds to the look of the fan which often gets spoilt due to exposed screws.
Electrically reversible: This is a good feature to have in any fan so yay!
Cons:
Air circulation isn't great: These fans don't move really fast and this means that the airflow isn't comparable to the regular fans.
Quite expensive: Which is an understandable fact since it is a premium design that you have to cough out some extra cash for.
Not very energy efficient: Again it is true for most of these fans
Take up a lot of space: This is primarily due to the size of these fans.
Before You Buy
If you can skip the problems associated with these fans then they are a great buy for your home because they look really good and that means they work well for most things. And all palm ceiling fans look stunning. These kinds of fan are usually designed keeping form over functionality.